Summary-
Lauren Layne's bestselling Oxford Series continues with the poignant, heartwarming story of New York's most eligible bachelor, Lincoln Mathis, a man who's living a lie—until his dream woman takes away the pain.
Lincoln Mathis doesn't hide his reputation as Manhattan's ultimate playboy. In fact, he cultivates it. But behind every flirtatious smile, each provocative quip, there's a secret that Lincoln's hiding from even his closest friends—a tragedy from his past that holds his heart quietly captive. Lincoln knows what he wants: someone like Daisy Sinclair, the sassy, off-limits bridesmaid he can't take his eyes off at his best friend's wedding. He also knows that she's everything he can never have.
After a devastating divorce, Daisy doesn't need anyone to warn her off the charming best man at her sister's wedding. One look at the breathtakingly hot Lincoln Mathis and she knows that he's exactly the type of man she should avoid. But when Daisy stumbles upon Lincoln's secret, she realizes there's more to the charming playboy than meets the eye. And suddenly Daisy and Lincoln find their lives helplessly entwined in a journey that will either heal their damaged souls . . . or destroy them forever.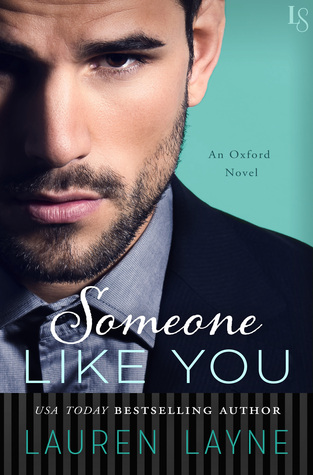 Release date: December 6th, 2016
Published by: Loveswept
Page numbers: 228
Review-
Someone Like You was one of my most anticipated reads of 2016 by Lauren Layne. This is Lincoln's story, the one and only who is practically a mystery to us all. I'm just gonna say it. I was totally prepared to give this a 5 star rating before reading it. I had high hopes and maybe that is why it did fall a little short for me. That's not to say that this was a bad read by any means. But it wasn't excellent nor did it blow my mind away.
So let's start with Lincoln. Lincoln doesn't hide his reputation as a playboy. On the contrary he cultivates it, letting people think he is just a pretty face. But Lincoln is well versed in hiding his pain. He has secrets and he has no intention of letting anyone know them. But then Daisy shows up and though there is an instant connection between them Lincoln holds her at a distance. I liked Lincoln. He was a great guy and his heart was always in the right place but he did not completely meet my expectations.
Then we have Daisy. Daisy has been through a horrible divorce and an abusive relationship. She doesn't want a relationship with anyone. Especially not with the closed off Lincoln. I really enjoyed Daisy's character. She was sweet and a little bit hesitant. She was definitely in a vulnerable place after her divorce but she didn't let that stop her from caring about others.
Daisy and Lincoln start off as friends. They are attracted to each other but they don't act on it for a long long time. The book is divided into three parts due to certain circumstances and we can see both Daisy and Lincoln healing and coping through the span of time. I really liked Lincoln and Daisy as a couple. They shared an easy understanding of each other and they genuinely cared about each other. But I didn't like their chemistry as much as say Josh and Heather from the Wedding Belle series or even Emma and Alex Cassidy.
Some of the best parts in the book for me were when the rest of the gang was present. We get to meet all the previous couples from the Stiletto gang to the Oxford couples. And I heart them so so much. They make every book enjoyable for me. We also get to meet new characters who will star in the next book. Overall though Someone Like You didn't blow my mind it was still a good read.
*Note: A copy of this book was provided by the author/publisher in exchange for an honest review. We thank them.