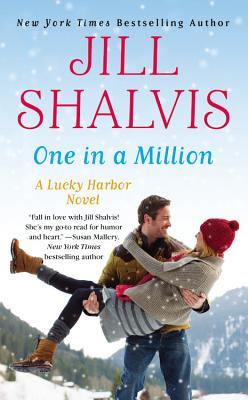 Summary-
As the brains behind wedding site TyingTheKnot.com, Callie sees it all: from the ring to the dress, the smiles . . . to the tears. It's that last part that keeps her single and
not
looking. Getting left at the altar will do that to a girl. But when Callie returns to her old hometown, she finds that her sweet high school crush is sexier than ever. And he makes it hard to remember why she's sworn off love . . .
Tanner is a deep-sea diver with a wild, adrenaline-junkie past—and now his teenage son is back in his life. How can Tanner be a role model when he's still paying for his own mistakes? It's hard enough that gorgeous Callie has appeared in town like a beautiful dream, challenging his best-laid plans to keep his heart on lockdown. Though there's something about being around her again that makes him feel like he can be the man she—and his son—deserve. Little Lucky Harbor holds their past; can it hold a beautiful new future?
Review-
One in a Million is the twelfth and the last book in Lucky Harbor series. I have loved this series and all the Lucky Harbor residents so I am feeling really bittersweet to see this series end but I am happy none the less. One in a Million is Tanner and Callie's story and I really liked it.
Callie is the grand daughter of Lucille. I really liked that it all came back to Lucille because she has been such an integral part of Lucky Harbor. I love Lucille in all her whimsical glory and we get to see a lot of her here. But coming back to Callie, she runs a wedding website and even though she doesn't believe in happy endings it is her job. I liked Callie. She was sweet and past experiences keep her from believing in love.
Then we have Tanner. Tanner is a deep sea diver. Now Tanner's teenage son is back in his life and he is trying hard to juggle everyone. I really liked Tanner. He was the calm and collected one to Callie's klutziness. He seemed to be in control of the situation on the outside but he had his own issues to deal with.
Tanner and Callie both don't believe in love in the beginning so they start off with a no strings attached relationship. But soon they are thoroughly tangled up in each other. I did find that this book had more cliches than any of the Lucky Harbor books. But I enjoyed it none the less.
I also loved to see how well Sam and Becca and Cole and Olivia were doing. We also get a glimpse at a few old favorites- Sawyer and Chloe - and that just made the book so much more pleasurable for me. All in all One in a Million was a good end to the series. All the Lucky Harbor books will always have a special place in my heart.
Note: A copy of this book was provided by the author/publisher in exchange for an honest review. We thank them.