BOOK SUMMARY:
November is looking forward to getting to know her father and the safety of a small town. After leaving the Big Apple and her bad memories for Tennessee, November starts working for her dad at his strip club doing the books. The one time she's allowed there during club hours she runs into Asher Mayson. He's perfect until he opens his mouth and makes assumptions. November wants nothing to do with Asher but too bad for November, fate has other plans.
Asher Mayson has never had a problem getting a woman, that is until November. Now all he can think about is making November his and keeping her safe.
Warning 18+ sexual content and a strong Alpha Male.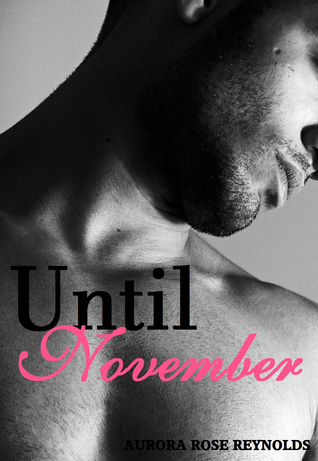 Release date: September 19th 2013
Page numbers: 291
REVIEW:
Until November is the first book in the Until series by Aurora Rose Reynolds. It is the story of Asher and November. I ended up liking Until November much more than I thought. I wouldn't say it was a perfect romance read but it has got me hooked and I do want to read the stories of the remaining Mayson brothers.
November is looking forward to a change when she goes to live with her father in a small town. She starts working for her dad hoping for the best. What she doesn't expect is to bump into Asher Mayson. I really liked November. She was a sweet girl who had a bad relationship with her mother. She has missed out on love and affection until she comes to stay with her dad. What I thought could use some editing was the first chapter. I thought all of it as unnecessary.
Then we have Asher. Asher comes off as a total ass in the beginning with all his misunderstandings about November. But as things clear up we get to see the real man underneath. Asher was a total alpha. Not taking no for an answer. He was possessive and protective but all he wanted was the best for November. When November is threatened he does everything in his power to keep her safe.
I really liked Asher and November as a couple. They had incredible chemistry and they were good for each other. Their intimate scenes were hot and it was nice to see how they fall in love with each other. Though the climax and the ending was predictable with the stalker plot line it was still enjoyable.
I also really liked Asher's brothers Trevor, Cash and Nico. All of them are pretty interesting and I'm looking forward to their stories. I did find a lot of errors in the book itself though. If those would be corrected it would be an even smoother read. Overall Until November was a good read.