Now Live! Let's Spread the Word!
Hi friends!

We've got some amazing sales and new releases this past week and we'd love if you could share them with your readers! Everything you should need for posting is below. If there's anything else you need, just let us know.

Your support is so helpful to us and our authors, and we appreciate you so much. Thank you for everything!
PROMO BLITZ FOR ZOE BLAKE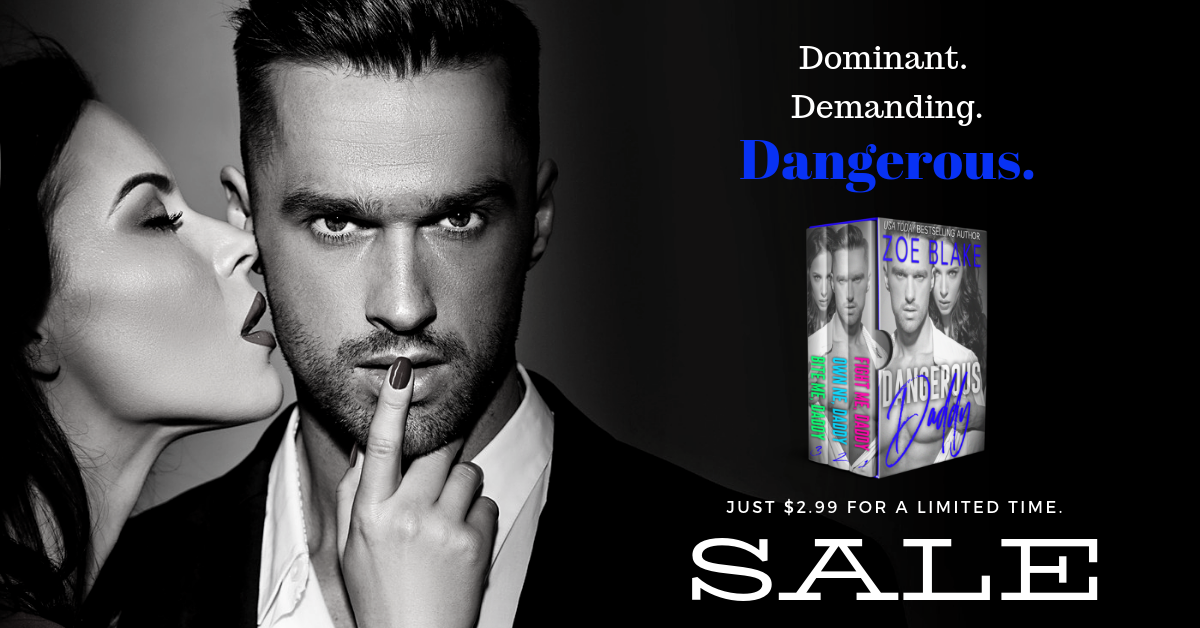 Dangerous Daddy Box Set
Genre/Trope: Daddy Dom, Dark Romance, Enemies to Lovers
On Sale for $2.99 (Original price $6.99)
Sale Price active June 11th to June 25th
Dominant. Demanding. Dangerous.
You don't want to cross these Daddies.

Fight Me, Daddy - Book One
No one screwed with him...ever.
Logan had a fierce reputation.
He was cruel, calculating and very dangerous.
Above all, he got the job done - by any means necessary.
When he is hired to retrieve information from a young woman who has fled to an isolated cabin, he decides to amuse himself with the powerless female.
He'll make her submit to his every depraved desire.
Subjecting her to pain and punishment, he won't relent, not even when she submits and calls him Daddy.
She can beg and plead her innocence all she wants, but he won't stop.
And if his little plaything decides to fight him?
Even better.

Own Me, Daddy - Book Two
Michael was a Marine, hard-wired to conquer and claim.
When Phoebe walked into his office lying thru her pretty red lips, his first impulse was to throw her over his desk and take possession.
The more she tried to deceive him, the more determined he became to bend her to his will and maker her call him Daddy.
She was about to find out how dangerous it was to deny him.
He owned her, whether she liked it or not.

Bite Me, Daddy - Book Three
Paine was not just his name, it was his profession.
So when an upstart thief tries to kill him, he can think of nothing more pleasurable than teaching her a very painful lesson.
She was about to learn how Paine earned his dangerous reputation.
He would have her on her knees, begging him not to hurt her, submitting to his demand to call him Daddy.
And if his little kitten showed her claws and sharp teeth?
Daddy will bite back.
NEW RELEASES - ALL ARE AVAILABLE IN KINDLE UNLIMITED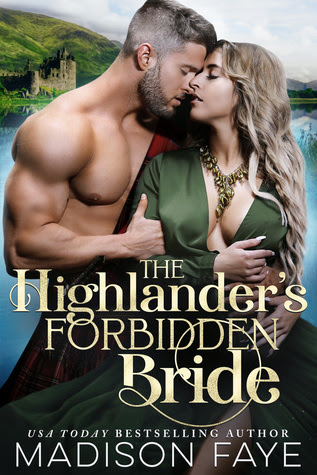 Being arranged to marry a Highlander lord is hardly uncommon.
But when he happens to be gorgeous, powerful, dominant, and your best friend's dad?
Well, that's another story…

Lachlan McDougall is a lot of things: powerful, ruggedly handsome Highlander Lord, fierce ex-warrior, my soon-to-be-husband…

…And my best friend's dad.

I grew up in their castle, under his eye. But secretly, I've wanted him since before I even knew what the word meant. On the surface, I'm marrying him for political reasons: to stop a war and save his lands.

On the inside, though, binding myself to Lachlan McDougall is a fantasy I've dreamt a thousand times.

I know this is wrong, and a sin. But once I lose myself in those dark, piercing eyes, and once I feel his big, powerful hands on me, and once I taste those beautiful lips?

…Well, it turns out, I might not be the only one with a forbidden little secret.

In two days, I'll be married to a man who I've married a hundred times, in my head. The man who's taken me to bed ten times that number in my dreams.

Twice my age, a scandal waiting to happen, and my best friend's father.

…I'm in so much trouble.

All the tropes, all the growly af alpha goodness, all the over-the-top fun, and of course, WILDLY historically inaccurate.Warning: not responsible for lost or ripped bodices. Reader beware.

As with all my books, this one is safe, with no cheating, and a HEA guaranteed.
They told me the men who live on the surface were filthy beasts. They were right.

For a highborn daughter of the great tower, never touched by the hands of a man, there is no greater shame than exile to the surface. I was told that the brutes who dwell amid the ruins of the old world would do unspeakable things to a girl like me, that if I were left at their mercy my virgin body would be shared among them and used more roughly than I could possibly imagine.

I didn't listen. I defied the sacred laws of the tower, and I was banished, cast down to be claimed by the savages beneath. But as they ravage me over and over, every desperate, devastatingly intense climax makes it more clear that there is one thing the elders did not warn me about.

They didn't warn me that before long, I would beg these filthy beasts for more.

Publisher's Note: Filthy Beasts includes spankings and rough, intense sexual scenes. If such material offends you, please don't buy this book.
I'm a single father and my darling six-year-old is the epitome of handful.
But the moment our new nanny sweeps into our lives, everything changes.
Dina's more than a Portuguese bomb-shell.
She has a tender heart, a way with words, and makes my gray London life suddenly seem bright.
She's young and innocent.
I'm a widower and an earl.
I have baggage that I can't ask her to carry.
But when she's in my arms, I want to sweep her off her feet.

Dear Reader,
This is no regency romp - this is a straight-up smut set in modern day England.
Ready for a dirty Brit with a sexy accent? Look no further.
This short and steamy read is the best stay-cation money can buy!
Xo, Frankie & Chantel