Summary-
When Drix was convicted of a crime--one he didn't commit--he thought his life was over. But opportunity came with the new Second Chance Program, the governor's newest pet project to get delinquents off the streets, rehabilitated and back into society. Drix knows this is his chance to get his life back on track, even if it means being paraded in front of reporters for a while.
Elle knows she lives a life of privilege. As the governor's daughter, she can open doors with her name alone. But the expectations and pressure to be someone she isn't may be too much to handle. She wants to follow her own path, whatever that means.
When Drix and Elle meet, their connection is immediate, but so are their problems. Drix is not the type of boy Elle's parents have in mind for her, and Elle is not the kind of girl who can understand Drix's messy life.
But sometimes love can breach all barriers.
Fighting against a society that can't imagine them together, Drix and Elle must push themselves--Drix to confront the truth of the robbery, and Elle to assert her independence--and each other to finally get what they deserve.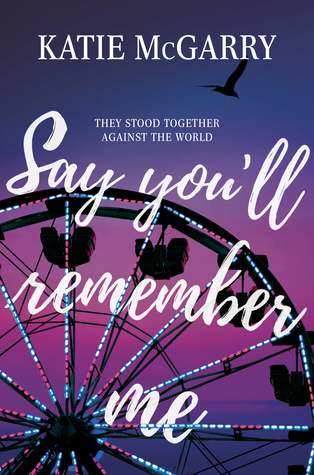 Release date: January 30th, 2018
Published by: Harlequin Teen
Review-
I have been a fan of Katie McGarry's writing since quite some time so when I got an opportunity to read her latest, Say You'll Remember Me, I jumped on it. Katie McGarry has the unique ability to write gritty young adult books which voice the emotions and struggles of young adults who are struggling to find their voice in the world. I really enjoyed this book.
Say You'll Remember Me is the story of Drix and Elle. Let's start with Elle. Elle is the governor's daughter. All her life she has been in the spotlight helping her father with the campaign. Elle is always portrayed to be perfect in the media when in reality no one is. I liked Elle. I could easily relate to her as she wanted to please her parents. I liked Elle's quirks and how she wanted to learn coding.
Then we have Drix. Drix was committed for a crime he didn't do. With the Second Chance Program he has an opportunity to finally get his life together and make something of it. Drix knows he need to follow the rules and do as the governor says. What he doesn't expect is to share a connection with the governor's daughter. I liked Drix and I liked how protective he was of his family and friends. He was a guy who knew how harsh the world could be.
Drix and Elle may seem like total opposites on paper but they really understood each other. Some of their struggles with people and expectations were similar and they could turn to each other in difficult times. The situations these two were in were realistic and authentic and I loved seeing them go through things together.
I also love how Katie McGarry weaves together a group of young adults who rely on each other and share a strong bond. I a really hoping that we can get a book for every single person because they all deserve something good in their life. Katie McGarry ends Say You'll Remember Me on a very real note. And I appreciated that. If you like young adult you should definitely give Katie McGarry books a try.
*Note: A copy of this book was provided by the author/publisher via Netgalley in exchange for an honest review. We thank them.