Summary-
Is there a problem, Officer?
Jack Garrett isn't a police officer yet, but there's already an emergency. His new firearms instructor—the one who just dropped every jaw in the academy gym—is the same sexy Irish stranger Jack locked lips with last night. The Olympic gold medalist and expert markswoman is now officially off-limits, but Jack's never cared much for rules . . .
Katie McCoy's been cooped up in a shooting range for
too
long. A wild love affair is just what she needs to let loose, though she never imagined it would be with her smokin' hot trainee. She cannot get involved with Jack—but a quick fling?
Perfect.
Falling hard for a charismatic recruit with an equal amount of sex appeal and secrets?
Bloody stupid.
Jack's charmed the pants off plenty of women (literally), yet few have ever looked beyond his perfect surface. Until Katie. He'll do anything to keep her in his life . . . except tell her about his past. But a tiny lie of omission never hurt anyone,
right?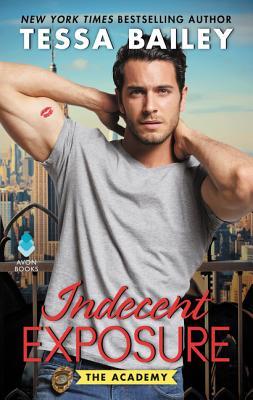 Release date: January 30th, 2018
Published by: Avon
Page numbers: 384


I love Tessa Bailey's books. They are fun and sexy and overall I have a really good time while reading them. Indecent Exposure is the second book in Tessa Bailey's Academy series. I thoroughly enjoyed Disorderly Conduct, the first book in the Academy series so I was really looking forward to Indecent Exposure. So needless to say I loved getting to know Jack and Katie.
So let's start with Jack. We'd met him in the previous book. Jack is easily the least enthusiastic guy about the Academy. He only got in because his best friend Danika made him do it. On top of that Jack loves his drink a bit too much and he is definitely hiding a lot of demons underneath. At first I didn't think I'd like Jack. But that was until I saw his redeeming qualities. Jack was a good guy below the surface. Yes, he was not perfect and made mistakes but who doesn't.
Then we have Katie. I loved Katie. She was such a sweetheart. Katie has come to America for a few weeks program where she will be teaching at the shooting range for the Academy trainees. What she doesn't expect is to bump into a charming stranger the night before who then turns out to be one of her trainees. Katie was a strong heroine. She wanted to have new experiences in life and live life to the fullest.
Jack and Katie may seem like total opposites at first but they work. There is a definite attraction between them and they easily understand each other. Jack is totally smitten with Katie from the first glance itself- a case of insta lust if not insta love. But Katie while attracted to Jack, is still a bit hesitant. She is afraid to let anyone become too dependent on her and Jack with his alcoholic issues is not a sure thing.
Tessa Bailey's writing is smooth and fast paced. There wasn't a page where I was getting bored or feeling like things were being dragged out for no reason. The events take place swiftly enough to keep you hooked. Now I cannot even begin to say how excited I am for Danika and Greer's story. The teases we got of them have me salivating for more. Overall, Indecent Exposure was a fun read which I would recommend to all romance readers.
*Note: A copy of this book was provided by the author/publisher via Edelweiss in exchange for an honest review. We thank them.