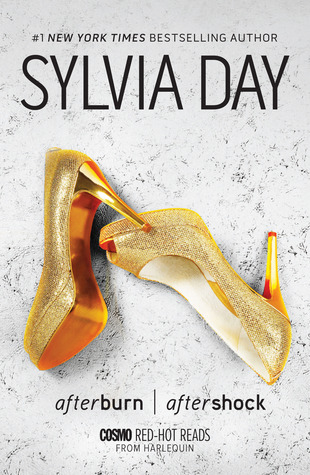 Summary-
Never mix business with pleasure. Never bring politics into the bedroom. In a way I did both when I took Jackson Rutledge as a lover. I can't say I wasn't warned.
Two years later, he was back. Walking into a deal I'd worked hard to close. Under the tutelage of Lei Yeung, one of the sharpest businesswomen in New York, I had picked up a thing or two since Jax walked away. I wasn't the girl he once knew, but he hadn't changed. Unlike the last time we'd drifted into each other's lives, I knew exactly what I was dealing with... and how addictive his touch could be.
The inner circle of glamour, sex, and privilege was Jax's playground--but this time, I knew the rules of the game. In the cutthroat business world, one adage rules all: keep your enemies close and your ex-lovers closer...
Review-
I have been wanting to read a Sylvia Day book to know what all the hype was about. I still have to read her Bared to You series but when I had an opportunity to read Afterburn and Aftershock I couldn't let it pass by. I can definitely see the charm in Sylvia Day's writing. I ended up really enjoying Afterburn and Aftershock.
Gia is our heroine. The entire book moves from her point of view. Two years ago Gia fell in love with Jackson Rutledge. She thought her world was about to change but Jax's abrupt departure from her life leaves her heart broken. She is left to pick up the pieces of her dreams and move on. I genuinely liked Gia. She was a modern woman, focused on her career, family oriented. She did want love in her life but was still not ready for it after Jax.
Now Jax, was a really complex hero. First I found him to be a bit arrogant and well, an asshole but there were so many layers to him. His reasons for leaving Gia two years ago were right in his own head and even though he doesn't think he can do relationships it was clear he was head over heels in love with Gia.
Both Jax and Gia had issues but still together they always seemed to work. Their chemistry was hot. There is no doubt Sylvia Day knows how to write steamy scenes. I also liked how the intimate scenes seemed to bring Jax and Gia closer, not only in a sexual way but at an emotional level as well. It was all very well done.
I also really enjoyed the wide cast of characters we get with Gia's family. I adored her three over protective brothers. I tend to love books with good sibling relationships and I got just that in Afterburn and Aftershock. The business world was also written very well. This was a good read for a first time Sylvia Day book. I can't wait to read more from her.
*Note: A copy of this book was provided by PRPundit in exchange for an honest review. We thank them.