Today we have with us Rashmi who is sharing her top ten best quotes from her newest novel Hooked, Lined & Single. There is also a giveaway where 3 lucky Indian readers have a chance to win a copy of the book for themselves. So do keep reading!
Summary-
Sometimes I lie awake at night, and I ask god, 'Where have I gone wrong?' Then a voice says to me, 'This is going to take more than one night' so you're a woman, you're 30-something and living in India? So what's the big deal about it? Well, if you're all of the above and still unmarried or married previously and you just don't seem to find the "right" man, you suddenly acquire a tragically special status as being cynical, demanding, impractical and chronically single or ambitious. In Hooked, Lined & Single, Alafia Singh meets a similar fate on her journey to find a husband using somewhat more traditional methods.
About the author-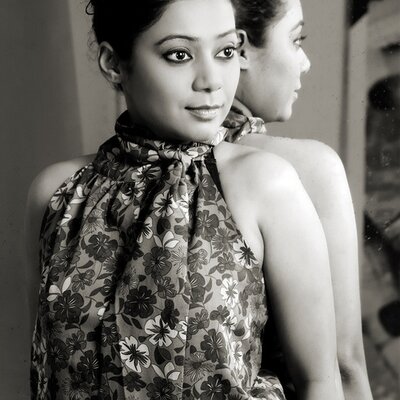 Rashmi Kumar is a professional journalist who worked for leading newspapers in India before moving to Canada in 2012. Here, she was chosen as the Writer-in-Exile in 2013 to showcase her Indian literary work to the Canadian audience. This is her second book after Stilettos in the Newsroom.
Top Ten best Quotes from Hooked, Lined & Single
1. For men, and most men, sex is a process of bodily pleasure. It could be true for women too, but in many cases, women like me surrender completely either to make their man feel good or because they're so blown away by the man's glamour, sagacity or rich (at times wealthy) lineage, that what follows in order to balance out that fatal attraction is sex.
2. To say that I looked ghostly was not true but I did come easy. I modified myself according to what my current man wanted.
3. I believed in it--karma--but that it'd ever apply on me, I'd hardly imagined!
4. "Nothing happens by chance; it is your karma working to teach you what you need to experience."
5. Of course, I needn't fuss over getting married and no one held me by the gunpoint to tie the quintessential knot either, but still I needed to be married.
6. Now if I were to go down on my knees and say sorry to each one of them, would they find me a man to marry?
7. "Don't you know that you should never date or marry an author because she'll fictionalize everything? She'll write about things you have done to her, or things you never did for her."
8. And with each passing birthday, as the number of candles increase on your chocolate truffle cake, you can feel it within your gut that your confidence has taken an equally sharp dive.
9. "So when you date someone, that's your boyfriend right?"
10. So sex is important. Period. And I didn't want to hide or run away from it by faking that I can do without sex. I can't.
Giveaway-
Rashmi has been generous enough to offer THREE copies of Hooked, Lined & Single to three lucky INDIAN readers.
Enter by filling the rafflecopter below or go here.
May the odds be ever in your favor!
a Rafflecopter giveaway
Thank you so much Rashmi and everyone!
Happy reading :)