Summary-
You don't know what you've got until it's gone…
Police academy cadet Charlie Burns can't believe his luck when the gorgeous blonde he meets in a bar murmurs those magic words: "Nothing serious, 'kay?" Mind-blowing, no-strings sex with Ever Carmichael—it's the holy grail of hookups for a guy who's too busy following in his law enforcement family's footsteps to think about getting serious. Charlie's
all
about casual…that is, until Ever calls it quits and his world tilts on its axis.
Ever knows that when you control the relationship game, you can't get played. But for the first time, she wants more than short-term satisfaction. Step one: end her fling with commitment-phobic Charlie. Step two: sacrifice herself to the ruthless NYC dating scene. Yet everywhere she turns, there's Charlie, being his ridiculously charming self. No online match or blind date compares to the criminally hot cop-in-training, but they're
over
. Aren't they?
If love is a four-letter-word, why does the idea of Ever seeing someone else tie Charlie up in knots? Now he's desperate to win her back…and a little date sabotage never hurt anyone,
right
?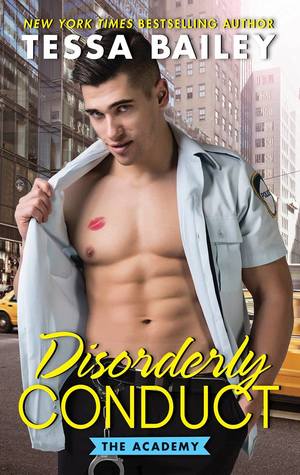 Release date: August 29th 2017
Published by: Avon
Page numbers: 384
I love Tessa Bailey books. Her romances are hot and sometimes that's just what a girl needs to take her mind off reality. Disorderly Conduct is the first book in the new series called the Academy. This series actually follows a group of friends and I think every one of them will get a standalone in the series. I went in with absolutely no expectations in Disorderly Conduct and I more than enjoyed it!
Let's start with Charlie. Charlie is a fun guy. When he meets a hot blond in bar he can't believe his luck when she says she wants a no strings arrangement with him. Now before you think Charlie is completely immature let me correct you. Charlie comes from a family full of cops. With his father and brother he has a lot of pressure on him. He wants to be the best at what he does and aims to become a lieutenant. Charlie thinks he genuinely doesn't have the time for a girlfriend so he is more than happy with what he has with Ever. That is until Ever decides to end it.
Ever was a sweet girl. She came from a line of women who didn't trust men and so she thinks she is incapable of having anything real. But with Charlie she feels more and try as she might to deny she wants more. A conversation with her mother changes Ever's mindset and she decides to cut Charlie lose and try to find a relationship guy. Ever had qualities which most could relate to. She had her insecurities but she wanted to brave the dating scene.
Charlie and Ever were SO good together. Tessa Bailey writes off the charts chemistry and it was no different this time. It's safe to say that there are plenty of steamy scenes filled with a dirty talking hero. It is also to be noted that Charlie does less than honourable things to sabotage Ever's dates but he feels really guilty and the poor guy doesn't understand that he is already head over heels in love with Ever. Also, there is very satisfactory grovelling in the end which I think makes up for it.
I also really liked Charlie's friends Jack and Danika. I know Jack's book is next and I can't wait to see how Tessa tackles the issues he's dealing with. I can also feel some sparks between Danika and Charlie's stoic brother Greer. So here's hoping that ship sails. Disorderly Conduct was a great start to a new series and I can't wait to read more.
*Note: A copy of this book was provided by the author/publisher via Edelweiss in exchange for an honest review. We thank them.