Summary-
Four masters of urban fantasy and paranormal romance plunge readers into the dangerous, captivating world unearthed beyond the dark...
New York Times
bestselling author
Nalini Singh
delivers a smoldering story with
Secrets at Midnight
, as the scent of Bastien Smith's elusive lover ignites a possessiveness in him that's as feral as it is ecstatic. And now that he's found his mate, he'll do anything to keep her.
In #1
New York Times
bestselling author
Ilona Andrews
' novella,
Magic Steals
, when people start going missing, shapeshifting tigress Dali Harimau and jaguar shifter Jim Shrapshire must uncover the truth about the mysterious creatures responsible.
From
Milla Vane
—a warrior princess must tame
The Beast of Blackmoor
to earn a place among her people. But she quickly discovers that the beast isn't a monster, but a barbarian warrior who intends to do some taming himself.
It's seer Makenna Frazier's first day on the job at Supernatural Protection and Investigations, and her first assignment is more than she bargained for when bodyguard duty for a leprechaun prince's bachelor party goes every which way but right in national bestselling author
Lisa Shearin
's
Lucky Charms
.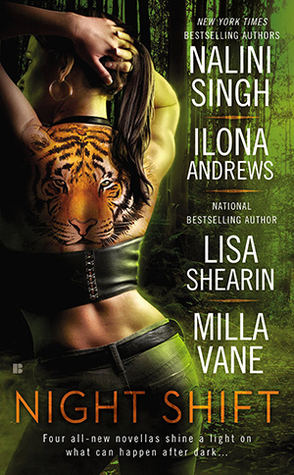 Release date: November 25th, 2014
Published by: Berkley
Note
: This review is only for
Secrets at Midnight by Nalini Singh.
I love the Psy-Changeling series by Nalini Singh so I was super excited for
Secrets at Midnight
. Secrets at Midnight is Bastien's novella. He is Mercy's brother whom we'd met before. I loved going back to the Dark River territory and seeing a few old faces.
Bas is kind of like a player in the Dark River territory. His mother is behind him for finding a mate and he has, he just can't catch her scent. I loved Bas. He was so sweet and strong and protective. When he meets Kirby, he knows she's his mate but there's just something he can't put his finger on about her.
I also really liked Kirby. She was a nice and shy girl but she still had a fierceness about her. She was quite unsure about her feelings about Bastien but as she gets to know him she can't help but fall for him. I liked the chemistry Bas and Kirby shared. They may not be my favorite but they were good for each other.
I also loved seeing Lucas with Naya and Mercy. I just love the DarkRiver pack and this novella kind of made me crave a full length book set in the Dark River territory. I also loved seeing Bastien's family, especially Grey and Sage. I hope they get books of their own. Secrets at Midnight was a good, short read.