Summary-
It started off as a battle of wits. Me: the ordinary girl with a big mouth against Him: the sexy bastard with a big...ego.
I thought I'd hit the jackpot when I was upgraded to first class on my flight to London.
That is until HE sat next to me. Gabriel Scott: handsome as sin, cold as ice. Nothing and no one gets to him. Ever. He's a legend in his own right, the manager of the biggest rock band in the world, and an arrogant ass who looks down his nose at me.
I thought I'd give him hell for one, long flight. I didn't expect to like him. I didn't expect to want him. But the biggest surprise? He wants me too. Only in a way I didn't see coming.
If I accept his proposal, I leave myself open to falling for the one man I can't manage. But I'm tempted to say yes. Because the real man beneath those perfect suits and that cool façade just might be the best thing that's ever happened to me. And I just might be the only one who can melt the ice around his heart.
Let the battle begin…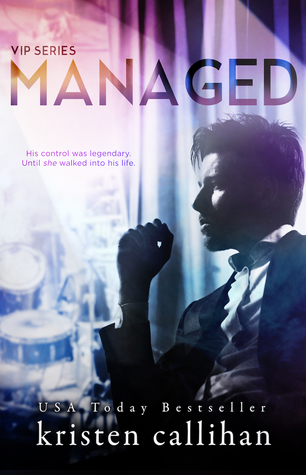 Release date: November 14th, 2016
Review-
I actually really enjoyed myself while reading Idol which is the first book in the VIP series by Kristen Callihan. So I was super excited to read Managed which is Scottie's book. We'd met Scottie who is the band manager in the previous book and I was excited about Managed by just reading the excerpt itself. Managed was another great addition to the series and I did thoroughly enjoy myself while reading it.
So like I said before this is Scottie or like the heroine knows him, Gabriel Scott's book. Gabriel comes off as a total hard ass in the beginning. He seems harsh and snobbish and uppity. But Gabriel genuinely is a good person who takes care of the people he loves. He just doesn't know how to express himself and he is not a fan of putting himself out there. But I loved how Gabriel was with Sophie. He was protective yet he showed her his true self along with his vulnerabilities.
Then we have Sophie, our heroine. I loved Sophie. I think she may just be one of my favourite heroines. Sophie was hilarious. She said what was on her mind and she didn't play any games. On the surface she was the exact opposite of Gabriel but she also had her own issues to deal with. I loved how Sophie understood Gabriel and wanted to take care of him for a change.
Kristen Callihan writes amazing friends to lovers stories. I've realised this as Idol and Managed are both based off strongly on the friendships the hero heroines form first. I mean the chemistry is obviously always there. The sparks are flying but the progress the relationship makes is steady and slow burn with a genuine bond of friendship at its core. Sophie and Gabriel were amazing together and I loved them both.
I also loved seeing the entire gang again. Killian and Libby were themselves, completely in love with each other. I also liked getting to know the rest of the band better. I am excited for each of the remaining band memebers' story. I have a feeling Jax is going to be next but my hunch may be wrong. All in all Managed was a great read for me, a feel good book which left me with a smile on my face.
*Note: A copy of this book was provided by the author/publishers in exchange for an honest review. We thank them.