Summary-
A ruthless tycoon

Savage ambition has brought common-born Rhys Winterborne vast wealth and success. In business and beyond, Rhys gets exactly what he wants. And from the moment he meets the shy, aristocratic Lady Helen Ravenel, he is determined to possess her. If he must take her virtue to ensure she marries him, so much the better…

A sheltered beauty

Helen has had little contact with the glittering, cynical world of London society. Yet Rhys's determined seduction awakens an intense mutual passion. Helen's gentle upbringing belies a stubborn conviction that only she can tame her unruly husband. As Rhys's enemies conspire against them, Helen must trust him with her darkest secret. The risks are unthinkable…the reward, a lifetime of incomparable bliss. And it all begins with…

Marrying Mr. Winterborne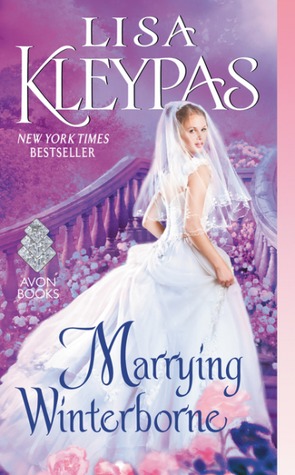 Release date: May 31st, 2016
Published by: Avon
Page numbers: 416
Review-
Lisa Kleypas is the queen of historical romance. I will read whatever she writes, there is no doubt about that. Marrying Winterborne is the second book in her Ravenels series. I adored all the new characters we were introduced to in Cold Hearted Rake, the first book in the series but I was even more excited for Rhys and Helen's story. Its safe to say I was not disappointed in the least. I really enjoyed Marrying Winterborne.
Let's start with the hero as the title of the book suggests, Marrying Winterborne. Rhys Winterborne is Welsh who is now the owner of the largest departmental stores across the country. He has definitely come a long way from being a commoner. Now the only thing he wants is to be included in the upper circle of English society and marrying Helen will do that. It doesn't help that he's helplessly falling for her. I really liked Rhys. He was ruthless where needed but his feelings for Helen were true.
Helen has always been the most shy in all of her sisters. She comes off as timid to others and that is one of the reasons many think her match with the brash Rhys Winterborne is not right. But Helen is a strong person underneath her shyness. She is thoughtful and loving and kind and she finds adventure with just being with Rhys. I loved how open Helen was with her feelings towards Rhys. She balanced him out perfectly.
Rhys and Helen may not seem perfect on paper but they balanced each other out. Helen understood Rhys' need to be included in English society and Rhys only wanted to give Helen every thing she's ever dreamed of. Everything was going so perfectly well that I wondered what exactly was going to be the conflict in the book. But never doubt Lisa Kleypas. There were interesting turn of events which keeps you engaged throughout the book. Lisa Kleypas heroes are something of a beauty, that's for sure.
I also loved seeing Devon and Kathleen doing so well. They were adorable together and they deserved all the happiness in the world. I also loved seeing the twins, Pandora and Cassandra. I can't wait to see how these girls get their happy endings. I'm already beyond excited for Devil in Spring which is the next book and it is about Pandora and the son of one of my favourite couples EVER! Marrying Winterborne was a great read.