Summary-
From the New York Times bestselling author of The Score and Midnight Revenge...
Four years ago, Cate's entire life changed when she discovered she was the daughter of a supersoldier. But Jim Morgan's overprotectiveness has pushed her away. These days, she's working as a freelance photographer and living the dangerous life Jim never wanted for her.
When Cate snaps a photo linking a corrupt South American politician with the leader of a notorious drug cartel, her mercenary father leads a team to rescue her—only to get shot and critically wounded in the process.
As Morgan's operatives rally together on a revenge mission, they're faced with new alliances and old heartaches. Cate is forced to work with David "Ash" Ashton, the man who broke her heart two years ago, while Liam Macgregor and Sullivan Port resurface after years apart to finally try to deal with everything they'd left unsaid.
Soon it's all-out war between the cartel and the mercenaries—with two couples caught in the middle of the blood feud. Love and redemption are within their reach...but first they have to make it home alive.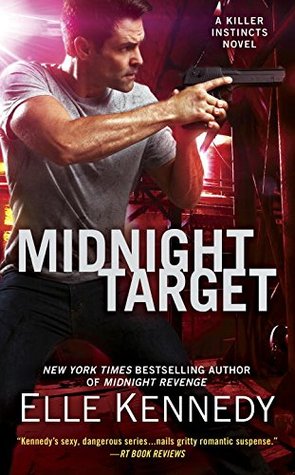 Release date: April 25th, 2017
Published by: Berkley Books
Review-
I was a little nervous but a lot more excited before starting Midnight Target by Elle Kennedy. The Killer Instincts series by Elle Kennedy is actually one of my favourite romantic suspense series of all time. I love all the couples and the action packed plots. Midnight Target is the final book in the series. Also, it contains not one but two love stories. So obviously I had high expectations and I'm happy to say Elle Kennedy met them all.
Cate is Jim Morgan's daughter. All her life she's wanted to be included, to be a part of the bigger picture. But because of her over protective father she's distancing herself from family. When Cate finds herself in trouble she turns to her father for help. She doesn't know what a shit storm she's unleashed until its too late and Jim is critically injured. Thus begins the story where everyone starts coming together to get to the bottom of it.
I loved Cate as a heroine. Yes, she was young and impulsive but her heart was always in the right place and at the end of it she is Jim Morgan's daughter. Kate has always been in love with Ash. But one too many rejections from him have made their relationship tumultuous at best. When Cate is forced to work with Ash both their feelings spill over. You'd think Ash is a total asshole but he isn't. Not really. He respects the hell out of Jim Morgan, a man who has given him a place to stay and made him feel like family. He knows his feelings for Kate are forbidden but he leaves no stone unturned when she is in danger.
Side by side to Kate and Ash's romance we also FINALLY get Sullivan and Liam's story. These two were best friends once upon a time. They could read each others mind. But feelings for each other have muddied the waters. I loved Liam. He was the one willing to take a step forward, willing to take a risk. Sully on the other hand was more cautious. But that didn't stop either of them from getting together. I am not a m/m reader but I still very much enjoyed Sully and Liam's story.
You definitely come to a full circle with Midnight Target. We get to meet all of Jim's crew and Noelle's assassins. I loved seeing how everyone was doing and seeing everyone together on a mission, working towards a goal. It made my heart happy. Midnight Target is filled with action and romance. Not everyone gets a happy ending and things get bloody fast. But I think Elle Kennedy has tied all the threads together with this. This is a massive book but one I loved reading. I didn't want it to get over. The Killer Instincts series is an amazing one and I would highly recommend the entire series.
*Note: A copy of this book was provided by the author/publisher via Netgalley in exchange for an honest review. We thank them.