"Waiting On" Wednesday is a weekly event, hosted by
Jill at
Breaking the Spine
,
that spotlights upcoming releases that we're eagerly anticipating.
Damaged Like Us by Krista Ritchie and Becca Ritchie
Publication Date: June 27th, 2017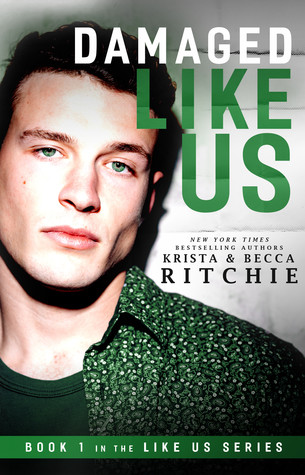 Summary-
Don't date your bodyguard.
It was the one rule he had to break.
Maximoff Hale is a force of nature. A ship unwilling to be steered. Headstrong, resilient, and wholly responsible — the twenty-two-year-old alpha billionaire can handle his unconventional life. By noon, lunch can turn into a mob of screaming fans. By two, his face is all over the internet.
Born into one of the most famous families in the country, his celebrity status began at birth.
He is certified American royalty.
When he's assigned a new 24/7 bodyguard, he comes face-to-face with the worst case scenario: being attached to the tattooed, MMA-trained, Yale graduate who's known for "going rogue" in the security team — and who fills 1/3 of Maximoff's sexual fantasies.
Twenty-seven-year-old Farrow Keene has one job: protect Maximoff Hale. Flirting, dating, and hot sex falls far, far out of the boundary of his bodyguard duties and into "termination" territory. But when feelings surface, protecting the sexy-as-sin, stubborn celebrity becomes increasingly complicated.
Together, boundaries blur, and being exposed could mean catastrophic consequences for both.
The Like Us series is a true series, one continuous timeline, that follows a family of wealthy celebrities and the people that protect them. Damaged Like Us can be read and enjoyed without reading any of Krista & Becca's other novels.
I cannot even begin to express how excited I am for Damaged Like Us. I am SO looking forward to this!
What are you waiting on? :)