Summary-
I know how to watch my back. I'm the only one that ever has.

India Maxwell hasn't just moved across the country—she's plummeted to the bottom rung of the social ladder. It's taken years to cover the mess of her home life with a veneer of popularity. Now she's living in one of Boston's wealthiest neighborhoods with her mom's fiancé and his daughter, Eloise. Thanks to her soon-to-be stepsister's clique of friends, including Eloise's gorgeous, arrogant boyfriend Finn, India feels like the one thing she hoped never to be seen as again: trash.

But India's not alone in struggling to control the secrets of her past. Eloise and Finn, the school's golden couple, aren't all they seem to be. In fact, everyone's life is infinitely more complex than it first appears. And as India grows closer to Finn and befriends Eloise, threatening the facades that hold them together, what's left are truths that are brutal, beautiful, and big enough to change them forever…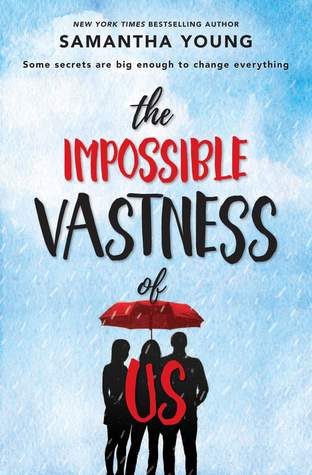 Release date: June 27th, 2017
Published by: Harlequin Teen
Review-
I love Samantha Young's new adult and adult books, especially her very popular On Dublin Street series. Her books are emotional and wonderfully written and always leave me with a happy feeling. The Impossible Vastness of Us is Samantha Young's young adult book. It basically focuses around three teens and what's going on in their lives.
The main character in The Impossible Vastness of Us is India. The whole book goes from her point of view. When India's mother decides to marry, India is forced to move across the country. Her new step father is rich, like extremely rich and he has a daughter of India's age. India soon finds that all is not what it seems with her new step sister Eloise and her boyfriend Finn. And everyone is keeping secrets.
I really liked India as a character. She had had an extremely difficult and abusive childhood at the hands of her father till her mother rescued her. Now all India wants is to get through high school and she knows no one can hurt her if she's popular. India was a girl with her head on her shoulders. She was strong and determined and all she wanted was to be independent in her life. With all the new changes happening in her life the last thing India expects is to be attracted to her step sister's boyfriend Finn.
Finn was the typical mysterious teenage boy when India first sees him. But things are definitely not what they seem with him. He's hiding something and all India wants to do is take away the sadness she sees in his eyes. Eloise on the other hand only wanted to be the perfect daughter for her father. She knows her reputation would be ruined if her secret came out.
Samantha Young's writing is amazing as well. I could understand so clearly what was going through sixteen year old India's head. When secrets are revealed things become complicated and feelings get tangled. One thing I'd like to clear is that there's no cheating involved in the book. I was hesitating for that reason before I knew this. And I'd also like to point out that I loved the way Samantha Young said in the book -sometimes its not the happy ending that matters but the right ending- and that's exactly what we got in The Impossible Vastness of Us. This was a good read.
*Note: A copy of this book was provided by the author/publisher via Netgalley in exchange for an honest review. We thank them.