Summary-
Dimple Shah has it all figured out. With graduation behind her, she's more than ready for a break from her family, from Mamma's inexplicable obsession with her finding the "Ideal Indian Husband." Ugh. Dimple knows they must respect her principles on some level, though. If they truly believed she needed a husband right now, they wouldn't have paid for her to attend a summer program for aspiring web developers…right?
Rishi Patel is a hopeless romantic. So when his parents tell him that his future wife will be attending the same summer program as him—wherein he'll have to woo her—he's totally on board. Because as silly as it sounds to most people in his life, Rishi wants to be arranged, believes in the power of tradition, stability, and being a part of something much bigger than himself.
The Shahs and Patels didn't mean to start turning the wheels on this "suggested arrangement" so early in their children's lives, but when they noticed them both gravitate toward the same summer program, they figured, Why not?
Dimple and Rishi may think they have each other figured out. But when opposites clash, love works hard to prove itself in the most unexpected ways.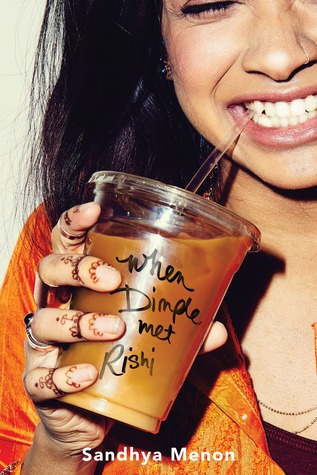 Release date: May 30th 2017
Published by: Simon Pulse
Page numbers: 380
I had been seeing multiple reviews of When Dimple Met Rishi by Sandhya Menon on goodreads which intrigued me. The premise of the book definitely sounded cute and I enjoy reading Young Adult contemporary books so when I had an opportunity to read and review When Dimple Met Rishi I went for it. So I know this book has some brilliant reviews and some awful ones. I think I fall somewhere in the middle. While I did enjoy the book it didn't blow my mind away.
Let's start with Dimple. Dimple is ready for college and definitely ready for a break from her mother who is obsessed with finding her the "Ideal Indian Husband" Dimple decides to participate in a summer program which is perfect for her future. What she doesn't expect is to bump into Rishi and what angers her even more is that it has all been arranged by their parents. And thus starts the journey of Dimple and Rishi.
Okay so I liked Dimple. She was a simple girl but she had smarts and big dreams. She wanted to focus on her career and achieve her goals. Her love life is the last thing on her mind. Rishi on the other hand is the complete opposite of her. He is adorable in a dorky way. He respects his parents' wishes and wants to do what will make them happy. He came off as a little uptight but really he had a very idealistic view of the world. He was also quite smitten with Dimple right from their first meeting and that was extremely cute to see.
The concept of arranged marriage has been explored in When Dimple Met Rishi. This is a common practise in India and it is not as heinous as it sounds. Contrary to the popular belief the purpose of an arranged marriage is also to try and find love and that is what Dimple and Rishi's parents want for them. But I did think that things were exaggerated a bit in the book. There were times where Dimple came off as selfish and mean and I didn't like it. Rishi was always there to soften her sharp edges but I wanted her to be just as vulnerable as him.
Sandhya Menon is a really good writer. The book was filled with humour and sprinkled with Indian culture and bollywood references. Also, I loved that the chapters were short and went from both Dimple and Rishi's pov. I practically flew through the book. I also just found out that Ashish- who is Rishi's brother will be getting a book in the future and I am definitely looking forward to that one because he seemed really interesting. Overall When Dimple Met Rishi was a cute read about finding yourself and falling in love along the way.
*Note: A copy of this book was provided by the author/publisher in exchange for an honest review. We thank them.