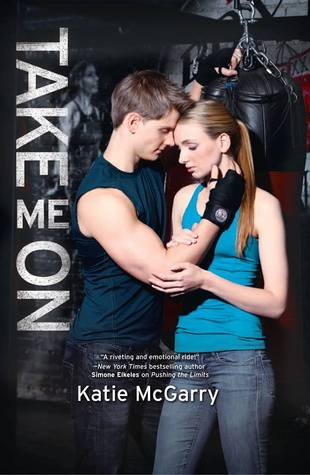 Summary-
Acclaimed author Katie McGarry returns with the knockout new story of two high school seniors who are about to learn what winning really means.
Champion kickboxer Haley swore she'd never set foot in the ring again after one tragic night. But then the guy she can't stop thinking about accepts a mixed martial arts fight in her honor. Suddenly, Haley has to train West Young. All attitude, West is everything Haley promised herself she'd stay away from. Yet he won't last five seconds in the ring without her help.
West is keeping a big secret from Haley. About who he really is. But helping her-fighting for her-is a shot at redemption. Especially since it's his fault his family is falling apart. He can't change the past, but maybe he can change Haley's future.
Hayley and West have agreed to keep their relationship strictly in the ring. But as an unexpected bond forms between them and attraction mocks their best intentions, they'll face their darkest fears and discover love is worth fighting for.
Review-
I LOVE Katie McGarry's Pushing the Limits series so I was super excited to read Take Me On. I just have to say that Take Me On was amazing. There's nothing in the book that I would actually change. It was perfect yet heart breaking at the same time and I loved every line of it.
Take Me On is the story of West and Haley. We'd met West in Crash Into You. He's Rachel's brother. I didn't think I'd like West as much as I did. He had the whole asshole thing going on for him but inside his reasons were genuine. He had all these bottled up feelings inside which resulted in disastrous outcomes. But West was a completely different person with Haley. He was fun and flirty wanting to be good for someone who mattered to him.
Then we have Haley. She was one of the sweetest heroine out there. Haley has had a horrible experience with her previous relationship which makes her hesitant to trust another fighter, which is exactly what West is. On top of that her family is going through a really rough time. One of the reasons I liked Haley was that she tried to be so strong for everyone even if it meant suffering for herself.
West and Haley together were amazing. I really wish Katie McGarry would stop torturing the couple so much but they do come out stronger at the end of it. West and Haley had chemistry and tension. They understood each other and even though they knew things were difficult they stood by each other. I also loved how there wasn't any denial. They accepted their feelings and wanted the best for their loved ones.
I was also really happy to see Isaiah and Rachel in this book. Katie McGarry writes very full fledged characters even if they don't have a huge role to play. The only tiny fault I can find is that the book is a bit lengthy for a contemporary YA. But it was all good. I would definitely recommend this series to everyone.