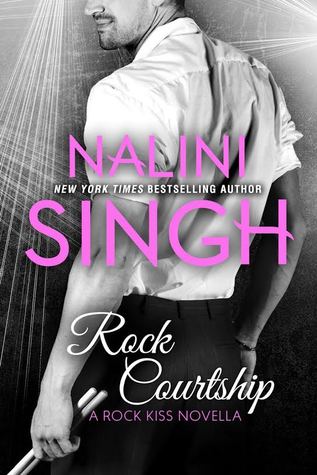 Summary-
New York Times bestselling author Nalini Singh's new contemporary romance novella is pure hard rock and scorching heat...
What happens when the Gentleman of Rock decides to play dirty?
A drummer for the hottest rock band on the planet, David has a single, powerful weakness: Thea, the band's publicist and the woman who steals his breath away with her every move.
Only problem is, Thea doesn't date clients--or musicians. Emotionally scarred by a cheating ex, she's not about to risk her heart with a man who has groupies buzzing around him like flies. Even if his sexy smile ties her up in knots.
What she doesn't know is that David is a one-woman man...and he's madly in love with her. David's determined to prove he's worth the risk, and willing to court her, step by exquisite step. Thea's about to discover just how long and hard this handsome drummer can play.
Review-
Rock Courtship by Nalini Singh is the next book which is a novella in her Rock Kiss series. Rock Courtship actually falls some what in the same timeline as Rock Addiction. We did get to see glimpses into Thea and David's relationship in Rock Addiction but we get all the details in this novella.
David is the drummer of Schoolboy Choir. He has always been somewhat in the back ground where the band is concerned and he doesn't mind it. He is known as the Gentleman of Rock. I really liked David. He was sweet and had a hard past. He valued his family and he was completely in love with Thea. His memo writing was so cute while trying to convince Thea why they were so good for each other.
Then we have Thea. Thea is Molly's sister whom we'd met in Rock Addiction. Thea has been there and done that, so she doesn't want to date a rock star. Add to that she has had a cheating ex, so she doesn't trust easily. It took me a little time to completely warm up to Thea but as we understand her reasons it is easy to like her.
Just like the previous book in the series, this book was hot. Thea and David have chemistry and we see that when they get together. We also get to learn quite a bit of history of the band and its members which I found really interesting. Rock Courtship was a really nice novella.
*Note: A copy of this book was provided by the publisher through Netgalley in exchange for an honest review. We thank them.