Goodreads Summary:
One cold night, in a most unlikely corner of Chicago, two teens—both named Will Grayson—are about to cross paths. As their worlds collide and intertwine, the Will Graysons find their lives going in new and unexpected directions, building toward romantic turns-of-heart and the epic production of history's most fabulous high school musical.
Hilarious, poignant, and deeply insightful, John Green and David Levithan's collaborative novel is brimming with a double helping of the heart and humor that have won both of them legions of faithful fans.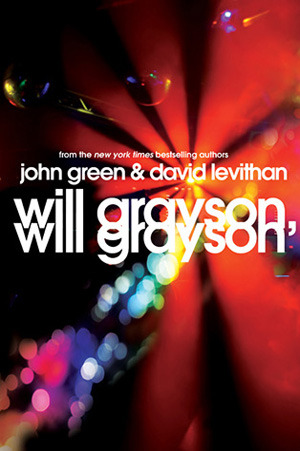 REVIEW:
For our twenty first birthdays, Janhvi and I had decided to gift each other copies of Will Grayson, Will Grayson. We were both extremely excited to read the book and after putting it on hold for almost a year, we finally read it. We didn't just read it though, we buddy read it and it was awesome. Being an ardent admirer of both David Levithan and John Green, I knew this book was going to be epic. And guess what? It was just that. Absolute. Complete. Total. Epic. The story of two boys named Will Grayson, the book revolves entirely around a school play initiated by Tiny Cooper.
To make it easier, I have systematically divided my review into the following parts- Will Graysons, Tiny Cooper, the plot, the writing and the overall/ final verdict.
Will Graysons: I honestly don't know how to differentiate between the two Will Graysons but this is how I will distinguish between them (as that's the only way I come up with)- Will Grayson and will grayson. Those who have read the book will know exactly who Will Grayson is and who will grayson is. I loved both the characters and how absurd, confused, normal and relatable they were, but I did find myself leaning more towards will grayson, who for me, was so honest, real and true. Having said that, Will Grayson himself possessed similar qualities as well, but he didn't get me as much as his namesake did. In a chance encounter, both the Will Graysons meet at a porn store in Chicago and while the two don't have many interactions throughout the novel, they play a major role in helping each other become better individuals and find their purpose and worth.
Tiny Cooper: Those readers who have read Boy Meets Boy by David Levithan must already be aware of how lovely a character Infinite Darlene is. She is literally one of the most epic LGBT characters of our times, if I may say so. But brace yourselves to hear the next- and sorry for this, Infinite Darlene- Tiny Cooper beats Infinite Darlene. He was, as he rightly says, fabulous. But not just that, he was also awesome and fantastic. I loved his character so much, I wish he were real. Tiny was hilarious, but underneath that fun person, there was a very deeply disturbed, troubled and really nice person. For me, this book was Tiny's. The authors should've just named it Tiny Cooper.
The plot: Like I previously mentioned, the plot revolves around a school play initiated by none other than Mr. Fabulous himself, Tiny Cooper. Initially, it seems like the play is just a random idea that makes the story interesting, but the end makes the reader realise that it is the most important part of the book. It's not just for entertainment purposes, but the play has a lovely story to tell and a simple and sweet message to convey. Aside from this, however, the plot was quite fascinating. I was highly intrigued by the lives of both our Will Graysons and I couldn't wait to see how everything turned out in the end. While the ending wasn't concrete as such, it's the kind of ending I absolutely love, so it worked really well for me.
The writing: Honestly, I have read enough David Levithan and John Green books to know the writers' writing style. David Levithan is known to surprise me with every read. Each book of his sounds like it has been written by a new person altogether. While Tiny Cooper was the epitome of a David Levithan creation, will grayson sounded so much like a character portrayed by David. Will Grayson's story was like a John Green book, but then again, Tiny was part of his story. From the interview I read between the two authors, I could make out that John wrote about Will Grayson and David about will grayson. But it is a co-effort, so I guess both the authors made the book and the writing what it is together. I don't have words to describe how immaculate and spectacular the writing was and how that made the characters so loveable. To show how great it was, I will share this photo I shared on my Instagram. Seriously, my hot pink and orange post-its are practically over- the writing was that magical.
The overall/ final verdict: Wow. It's been a long time since I read a book that made me use words like epic and wow. The last book that made me do that, coincidentally was Two Boys Kissing by David Levithan. I know I've praised David a lot in this review, but he deserves that and so does John, who is seriously one of the coolest authors ever. I love them both and I sure hope that this collaboration of theirs wasn't a first and last of its kind. They don't just make my day or week or month, but they make my whole year with just one read. I hope to see more epicness form the two epic writers. I. Loved. This. Book. So. Damn. Much.

I honestly don't have any more words to express how much I loved

Will Grayson, will grayson

. It was epic, exciting, very deep, unforgettable and thoroughly wow. The length of my review shows how much I love it, and if that's anything to go by, the book is a must must must read.
RATING: