Teaser Tuesday is a weekly bookish meme hosted by Miz B of
A Daily Rythm
. Anyone can play along!
Okay so I have two teasers today. I'm really enjoying the back and forth between the siblings in Too Hot to Handle. Here we go-
"You smell like the ocean"
"You smell like the blood of taxpayers," Belmont returned.
"He so had motive," Aaron chimed in. "You broke up with him because he wasn't vampiric enough. That was your Twilight phase, remember?"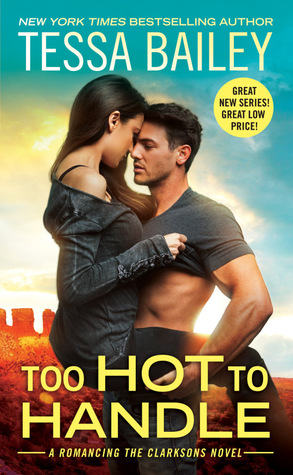 Summary-
The first book in a brand new contemporary romance series from New York Times bestselling author Tessa Bailey!

When Rita Clarkson's Suburban takes its last breath on a New Mexico roadside, rescue roars up on a Harley in the form of smooth-talking honkey tonk owner, Jasper Ellis, a man as mysterious as he is charming. Rita's cross-country journey to New York City--with her three estranged siblings in tow--is only beginning, but now that Jasper has found Rita, his plans do not include her leaving.
Have a great day everyone! :)