Summary-
A MAN OF SIN

Devastatingly handsome. Vain. Unscrupulous. Valentine Napier, the Duke of Montgomery, is the man London whispers about in boudoirs and back alleys. A notorious rake and blackmailer, Montgomery has returned from exile, intent on seeking revenge on those who have wronged him. But what he finds in his own bedroom may lay waste to all his plans.

A WOMAN OF HONOR

Born a bastard, housekeeper Bridget Crumb is clever, bold, and fiercely loyal. When her aristocratic mother becomes the target of extortion, Bridget joins the Duke of Montgomery's household to search for the incriminating evidence-and uncovers something far more dangerous.

A SECRET THAT THREATENS TO DESTROY THEM BOTH

Astonished by the deceptively prim-and surprisingly witty-domestic spy in his chambers, Montgomery is intrigued. And try as she might, Bridget can't resist the slyly charming duke. Now as the two begin their treacherous game of cat and mouse, they soon realize that they both have secrets-and neither may be as nefarious-or as innocent-as they appear . . .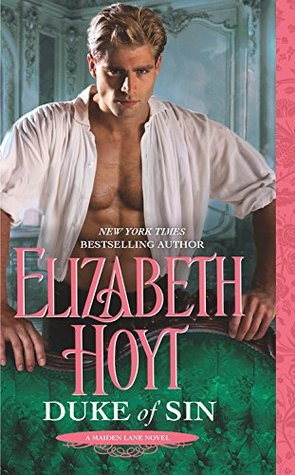 Release date: May 31st, 2016
Published by: Grand Central Publishing
Page numbers: 364
Review-
There are very few historical romance series that I actually keep up with. Mostly, I go the contemporary route. But Elizabeth Hoyt is one author who writes beautiful stories. Duke of Sin is the tenth, yes you read that right, the tenth book in the Maiden Lane series and this series shows no signs of stopping. I'm still just as interested in Hoyt's characters as I was during book one and I enjoyed Duke of Sin just as much as its predecessors.
Our hero is Valentine Napier, the Duke of Montgomery. Valentine is everything one hates in a man. He is vain,
unscrupulous
and devastatingly handsome. His most preferred form of talking is through black mail. You'd think that you'd hate Val but some how during the course of the book you start understanding him. As you come to know his childhood and his past you can see that he has never known what real love is.
Our heroine is Bridget Crumb. Bridget is the housekeeper. She is smart and capable. As independent as a woman can be during those times. I loved Bridget. She obviously had intentions of her own for working in the Duke's house but she meant no harm to the Duke. As she begins to talk to Val she sees that what everyone thinks about him is not always true. I think Bridget made for a perfect partner for Valentine, balancing him out.
Elizabeth Hoyt writes amazing chemistry. I loved all the conversations between Val and Bridget. They were hilarious and witty. There is by no means insta love or anything of that sort in this book. Bridget goes from hating Valentine to understanding him to loving him. Their relationship progresses gradually, at a steady pace which makes it very real.
I also loved all the supporting characters in Duke of Sin. Elizabeth Hoyt makes a nice base for the next book and we get to meet a few new people. What I like about the Maiden Lane series is that it is not all romance. There is a plot with a little bit of suspense moving the book as well as the entire series forward. I also loved seeing Asa and Eve from the last book. Overall, Duke of Sin was a great addition to the Maiden Lane series. I would highly recommend this series to fans of historical romances.
*Note: A copy of this book was provided by the author/publisher via Netgalley in exchange for an honest review. We thank them.