BOOK SUMMARY:
A standalone companion book to the internationally bestselling Shiver Trilogy.
Sinner follows Cole St. Clair, a pivotal character from the #1 New York Times bestselling Shiver Trilogy. Everybody thinks they know Cole's story. Stardom. Addiction. Downfall. Disappearance. But only a few people know Cole's darkest secret -- his ability to shift into a wolf. One of these people is Isabel. At one point, they may have even loved each other. But that feels like a lifetime ago. Now Cole is back. Back in the spotlight. Back in the danger zone. Back in Isabel's life. Can this sinner be saved?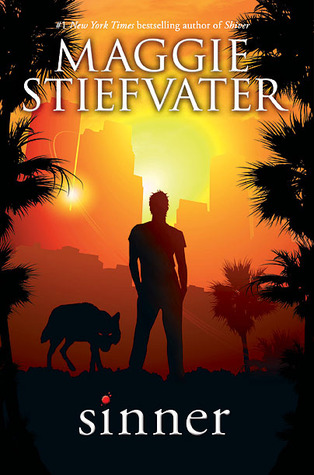 Release date: July 1st 2014
Published by: Scholastic Press
Page numbers: 357
REVIEW:
I was extremely excited to read
Sinner
from the moment I saw that
Maggie Stiefvater
was writing a story for Cole St. Clair. I absolutely love her
The Wolves of Mercy Falls
series. I read the books at a time when I didn't write reviews, so I will take the opportunity to say now what I couldn't at that time. Although I barely remember much, what I do remember is that this series had me absolutely, completely and totally engrossed. I didn't just read it, but I lived it. I felt so much while reading it. The powerful impact of the author's writing made me fall in love with the characters and the story and
The Wolves of Mercy Falls
is undoubtedly at the top of my most favourite Young Adult paranormal reads list. So it was but obvious that I was eager for
Sinner
and I had high expectations from it.
While
Sinner
didn't live up to the first three books of the series, in its own way, it was a great read. Maggie
promises on Goodreads
that the book is "very full of Cole and Isabel" and obviously, she knows what she's saying and she's absolutely right. From the first page to the last, this story is about that destructive, unimaginable and almost I-hate-that-I-love-you pairing. We met a bunch of people before, but this book only focuses on two individuals. Of course there are other people involved and they were all lovely in their own way. Also, in a way, they were all needed to make Cole and Isabel realise that they were, in fact, contrary to thier own belief, meant to be.
I was slightly disappointed with Sinner since- and I can say this on the part of the many fans of The Wolves of Mercy Falls series- it didn't make me feel what the series made me feel. I wasn't into it, you know? The writing wasn't as magical and poetic as it was before but yes, it's Maggie and she writes beautifully. It's just that it wasn't as beautiful as what I've read previously from her. Also, I found myself getting frustrated with Isabel more times than one. My simple point was if she's so intent on being indifferent, there was no need to care even the slightest bit. And if she did care, then she could have done it without pretending to be indifferent.
Another thing was the epilogue. For me, an epilogue provides a kind of a closure- if not to the characters, then to the story at least- but clearly, this epilogue left me wondering what even happened there. It all ends well, yes, but I didn't "get" the epilogue.
What I did love about the book was Cole. It was all about Cole and I loved every bit of it. He is fighting a battle between his past and present to make his future and it was portrayed beautifully. Isabel wasn't always with him, but when the two were together, they made for a fire-crackling pair. While there are quite a few aspects that get a bold and bright tick from me, there are also many aspects that get a simple and straight cross. My loyalty to the series and Cole St. Clair are the two things that have made me wrap up and say that Sinner was a great read, although not all that great.