Summary-
He's the boss. But she's ready to take charge.

In this provocative and sexy* office romance, a cheeky new hire tempts a hotshot sports agent to mix business with pleasure.
Jenny:
Job interviews are a bitch under the best of circumstances, but when your potential boss is the world's biggest prick, that's when you should simply walk away. It's just that I need this job so badly—and I'm mesmerized by Ethan Mason's piercing gaze. Men like him aren't supposed to exist in real life. But under the tailored suits and
GQ
looks, Ethan simmers with barely restrained ambition. And no matter how hard I work to fight the attraction, I'm going to get burned.
Ethan:
You don't become a top agent without learning how to close a deal. I always get what—or who—I want, by staying cool and in command. Then Jenny Jackson walks into my office with her lush curves and "screw you" attitude and blows away my intentions of keeping things professional. All I can think about is exploring the perfect body hidden beneath those conservative clothes or shutting her saucy mouth with one hot kiss. Jenny's worth breaking the rules over—if I can convince her to break the rules for me.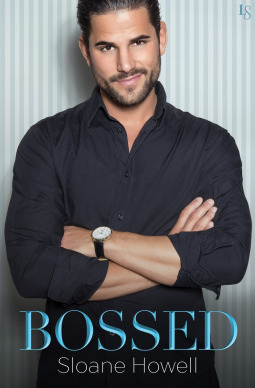 Release date: March 28th, 2017
Published by: Loveswept
Review-
I love discovering new authors/new to me authors whose books I really end up loving. So when I saw that Bossed by Sloane Howell was up for grabs I decided to take a chance on it. It looked like a classic office romance with a love hate relationship thrown in. It is a cliche but it works for some reason. Unfortunately, I didn't love this book. I felt that it was very average for me.
Let's start with Jenny. Jenny is on the lookout for a new job. When she meets her potential boss things get out of hand and she is pissed with his high handedness. But Jenny needs the money to take care of her ailing father. I found that Jenny fluctuated a lot. She was a total spit fire and a bitch with Ethan when they were in front of an audience but then she suddenly became a vulnerable girl when she was alone with him. I didn't get this as it was too extreme.
Then we have Ethan. Ethan is one of the top agents in the business and he didn't get there by playing nice. When Jenny walks into Ethan's office with her fuck you attitude Ethan can't help but admire her. She stands up to him and is certainly not scared of him. I didn't like Ethan very much either. I understood that he had had a childhood trauma and he was scared of relationships but one too many times he just acted like a child.
Jenny and Ethan's relationship was a roller coaster ride. They were almost always arguing and yes, I admit that there was tension between them but sometimes it ran too hot and cold. I didn't understand that and because of that I couldn't relate to any of the characters.
I liked Jenny's best friend. She was super helpful and encouraging. I think I actually liked her better than Jenny herself. Jenny's father was a good guy and I really loved Matt, Ethan's best friend. Matt was always there to pull Ethan's head out of his ass. I'm hoping he gets a book because he deserves it. Bossed was an okay read for me.
*Note: A copy of this book was provided via Netgalley by the author/publisher in exchange for an honest review. We thank them.