Summary-
A love of a lifetime . . .
Leaving Belmont Clarkson is the hardest thing Sage Alexander has ever done. From the moment they met, she knew Belmont was the one, and getting up close and personal with him on his family's epic road trip has taken her desire to a new, even hotter level. But there's no way she can go there---not without revealing secrets that could devastate them both.
Losing Sage is not an option. Belmont's heart is hers, has
always
been hers. He knows she's hiding something from him, but nothing will stand in his way of telling her just how much she means to him. Finding her is easy---saving her from her past could cost him everything.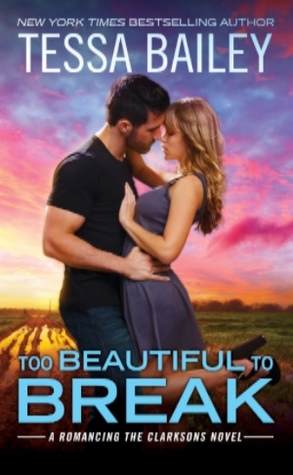 Title: TOO BEAUTIFUL TO BREAK
Series: Romancing TheClarksons, #4
On Sale:September 26, 2017
Too Beautiful to Break was one of my most anticipated reads of 2017. This is the fourth and final book in the Romancing the Clarksons series by Tessa Bailey and the build up of Belmont and Sage's book was happening right since book number one. I really did enjoy myself while reading Too Beautiful to Break. I have been following this series right through the beginning and it was bittersweet to see it end. But I'm quite satisfied with the ending we got.
So let's start with Sage. Sage has been Peggy's best friend and wedding planner so she has been through thick and thin with the Clarkson siblings during the course of the road trip. Sage may come off as shy and sweet and classy but underneath she is hiding a background which she ran away from. But Sage knows she can't keep running and to get back to reality she has to leave Belmonte behind. I really liked Sage. She was a sweet girl and her heart was always in the right place.
Belmonte is the quiet brother. An incident in his childhood left him scarred and he is still struggling to deal with it. The only person who is steady in Bel's life in Sage. He feels right with her and only she can calm the demons inside of him. When Sage decides to leave him Bel will do anything to get rid of her problems for her. I love Bel. He was the sibling who probably needed love and affection the most.
Sage and Belmonte made for a great pair. Sage fears that their dependence and neediness for each other may end up ruining them both but Bel is always there to prove her wrong. The chemistry between Belmonte and Sage was amazing and as always Tessa Bailey delivers and steamy and angst filled romance. Bel and Sage both have vulnerabilities and they both overcome them with each other's help.
We also finally get to see all the Clarkson siblings together along with their better halves. All the siblings have come a long way and it was great seeing them finally be a family who loved and protected each other. The climax of the book was definitely dramatic but Sage and Bel deserved their happy ending. I would definitely recommend this series to all romance and Tessa Bailey fans out there.
*Note: A copy of this book was provided by the author/publisher via Netgalley in exchange for an honest review. We thank them.