Summary-
Harper Nugent might have a little extra junk in her trunk, but her stepbrother calling her out on it is the last straw… When rugby hottie, Dexter Blake, witnesses the insult, he surprises Harper by asking her out. In front of her dumbass brother. Score! Of course, she knows it's not for reals, but Dex won't take no for an answer.

Dexter Blake's life revolves around rugby with one hard and fast rule: no women. Sure, his left hand is getting a workout, but he's focused on his career for now. Then he overhears an asshat reporter belittle the curvy chick he'd been secretly ogling. What's a guy to do but ask her out? It's just a little revenge against a poser, and then he'll get his head back in the game.

But the date is better than either expected. So is the next one. And the next. And the heat between them…sizzles their clothes right off.

Suddenly, this fake relationship is feeling all too real…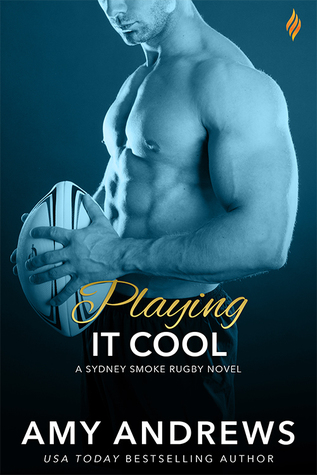 Release date: September 12th, 2016
Published by: Entangled Publishing
Page numbers: 163
Review-
I wanted to read Playing it Cool by Amy Andrews solely based on the summary. It sounded good and so when I got the chance I went for it. Playing it Cool is actually the second book in the Sydney Smoke Rugby series by Amy Andrews. But each book can be read as a stand alone and though the characters from the previous book do make an appearance it does not affect the enjoyment of this book. Overall, I quite liked Playing it Cool.
Let's start with our heroine Harper. Harper was a sweet heroine. She had worked hard to get where she was with her body image but she obviously had insecurities like the rest of the world. I loved how straight forward and smart Harper was. She was a genuinely good person inspite of her step brother and step mother pulling her confidence down.
Then we have Dexter. Dex has worked extremely hard to get on the rugby team and he doesn't for one moment take it for granted. He wants to focus on his career, have a comfortable bank account so that he never has to relive his childhood days. That means not falling in love or getting into a relationship. But he is massively attracted to the curvy Harper and he can't help himself.
I liked Harper and Dex as a couple. Things seem to be going perfectly well between them as they are both good people. I thought they had great chemistry and they were obviously fooling themselves if they thought they were in a fake relationship. What annoyed me a bit was the way Dex behaved towards the end. Like I got that he didn't want to fall in love but his reaction was bad in general. Also, I do get that he couldn't express what he was feeling but I really disliked his behavoir.
I also enjoyed the players which made up the rugby team. They were a fun bunch and they had each other's back. All the Aussie terms did get a little bit confusing but the author does provide an index of terms with their meanings so that helps. Overall Playing it Cool was I guess an above average read for me.
*Note: A copy of this book was provided by the author/publisher via Netgalley in exchange for an honest review. We thank them.