Will a budding wedding planner and her bad boy neighbor
stop banging heads and start hearing wedding bells?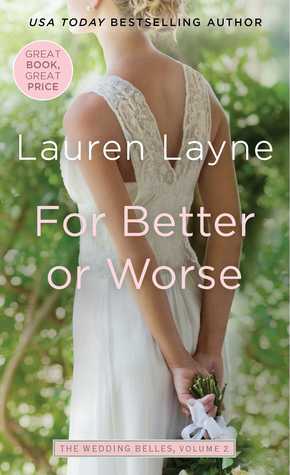 FOR BETTER OR WORSE
Lauren Layne
Will a budding wedding planner and her bad boy neighbor stop banging heads and start hearing wedding bells in the sexy second novel in USA TODAY bestselling author Lauren Layne's irresistible new series that marries Sex and the City with The Wedding Planner?
When small-town girl Heather Fowler finally gets promoted from assistant to actual wedding planner, she's determined to make it as one of Manhattan's elite Wedding Belles. Unfortunately, her first client demands an opulent black-tie affair at the Plaza…in five months' time. Heather's days quickly become a flurry of cake tastings, dress-fittings, RSVP cards, and bridal tantrums. But what she's really losing sleep over is the live music blaring from her playboy neighbor's apartment all night.
Five years ago, Josh Tanner was an up-and-comer on Wall Street, complete with the penthouse and the migraines. But a grim cancer diagnosis made him realize there is more to life than the corner office. If only he could convince his pretty, workaholic neighbor to let loose, too. As Heather lets down her guard, Josh is surprised when he starts falling for the sweet, vulnerable woman hiding beneath those power suits. Soon, it's Heather's turn to convince Josh to take the biggest risk of all: love.
BUY NOW
Amazon
|
B & N
|
Google
|
iTunes
|
Kobo
Review-
For Better or Worse is the second book in Lauren Layne's Wedding Belle series. I have read both the novella and the book preceeding For Better or Worse and while they were not bad reads by any means they weren't great either. But For Better or Worse just completely blew me away. In a very very good way of course. It just seemed like all the links came together perfectly in this book and all in all For Better or Worse made for a very satisfying romance.
Let's start with our heroine Heather. Heather was a small town girl with big dreams before she moved to New York city. Heather is an assisstant wedding planner at the Wedding Belles with high hopes of becoming a proper Wedding Planner with the promotion if all goes well and she can handle her client. I loved Heather as a heroine. She was sweet and nice but she was also determined and hard working. Because she is this close to becoming a wedding planner she doesn't need any distractions especially in the form of her neighbour, Josh.
Josh Tanner is Heather's neighbour who is currently working with his band. He was a typical Wall Street guy until a few years ago when events in his life made him realize how short life really could be. Now he tries to live each day as if it were his last but still he can't seem to find any satisfaction or contentment in it. That is until Heather comes knocking at his door with her fiery temper and spirit. I loved Josh. He was scared of committment but the way he was with Heather was just amazing.
I loved the banter which we get to see from the first moment Heather and Josh meet. It is a Lauren Layne trademark and I couldn't be more satisfied with their conversations and the witty back and forth. There is no insta love between Josh and Heather which is always a plus but they definitely had a lot of chemistry. I liked how their friendship progressed and their feelings for each other became even deeper.
Another thing I loved about For Better or Worse was the bromance we get to see between Josh, Logan and Seth. The conversations between these three guys were hilarious. I also loved how the entire gang of Wedding Belles was together often with their better halves. The whole feeling of family really came through in this book. I don't think I need to say that this book is my favourite in the entire series. I think my excessive use of the word "loved" already gave it way. I can't wait to read Alexis and Logan's book which is next.
*Note: A copy of this book was provided via Netgalley by the author/publisher in exchange for an honest review. We thank them.
Don't Miss Any of the Wedding Belles Novels
"So this is where the noise happens, huh?" she asked.
Josh's eyes narrowed as his friend's hand touched Heather's back briefly. "Absolutely," Trevor said. "We're sorry it keeps you up though."
"Oh, it's okay," she said, waving her hand. "I mean . . . it's not. But tonight I couldn't sleep anyway, so you get a free pass. What do you all play?"
"Donny's bass, Felix is on drums. Josh is lead guitar, and I, as the most important member, have the pipes."
"Oh! I thought Josh was the singer," Heather said with a quick glance over her shoulder at him.
Their eyes locked, and Josh felt a flicker of . . . something.
"Ah, is that what he's telling the women these days," Trevor joked.
"No, I just . . . I hear him, singing sometimes," Heather muttered.
"Our boy can carry a tune well enough, but wait until you hear me, love," Trevor said.
Josh turned away in mild disgust, pulling a beer out of the fridge as Trevor and the other guys coaxed Heather into the practice room, thrilled to have any sort of audience, even a reluctant one.
"Yo, Tanner," Felix called.
"What," he called, popping the lid off the bottle and tilting the beer back to his lips as he tried to shake off whatever was bringing down his mood tonight.
"Let's show Heather here that we're more than a bit of noise coming through her bedroom wall."
Josh turned around to see Donny dragging one of his kitchen chairs across the room, disappearing into the practice room.
"All right, love, you just sit down and get comfortable," Trevor said. "Tanner! Come on, man."
Josh heard the low strum of Donny's guitar, heard Felix do a little warm-up rhythm, and knew there was no way of getting out of it. If he refused to play a song now, he'd look like an ass.
Still, his feet didn't move, and he took another sip of beer.
Feeling eyes on him, he glanced up to see Heather in the doorway, leaning one shoulder against the doorjamb as she studied him.
Her tone was lighthearted, almost slightly reluctant, as though she didn't want to care about why he was out here alone, feeling oddly itchy with his life.
He appreciated it. He'd spent enough time in the past few years dealing with people who walked on eggshells around him, cooing sweetness. Some of it genuine, some of it not so much.
Heather's no-nonsense question was refreshing—and exactly what he needed.
He was happy and healthy and living the dream, damn it.
Even if he was no longer sure it was his dream.
"You going soft on me?" he asked, taking one last sip of his beer before setting it aside and strolling toward her.
Heather's eyes narrowed. "Hardly. I just wanted you to get your shit together so I can see your cute lead singer work his magic."
He deliberately stepped into the doorway so she couldn't move in either direction without brushing against him, grinning at her discomfort.
"You're in a better mood tonight," he said, his eyes skimming over her crazy curls and relaxed expression. "Why?"
"Believe it or not, I'm not a shrew."
Heather shoved his shoulder with a little scowl. "I'm not!"
"Does that mean you're going to start making banana bread like Mrs. Calvin?"
"Yes, definitely. And coffee cake and sugar cookies and whatever other goodies you might like. All while wearing a frilly, feminine apron."
"Dare I hope there's nothing under the apron?" he asked, leaning in slightly.
"Right again!" she said, in mock delight. "I just love to bake naked."
Josh's pulse leapt, but Trevor interrupted before the sudden X-rated picture in his mind could turn into a full-fledged fantasy.
"Dude, we doing this or what?"
"One song," she said, holding up a finger. "I may as well see what the music sounds like on this side of the wall."
Lauren Layne is the
USA Today
bestselling author of more than a dozen romantic comedies. She lives in New York City with her husband (who was her high school sweetheart--cute, right?!) and plus-sized Pomeranian.
In 2011, she ditched her corporate career in Seattle to pursue a full-time writing career in Manhattan, and never looked back.
In her ideal world, every stiletto-wearing, Kate Spade wielding woman would carry a Kindle stocked with Lauren Layne books.
For a list of all her works, please be sure to check out her official
website
!