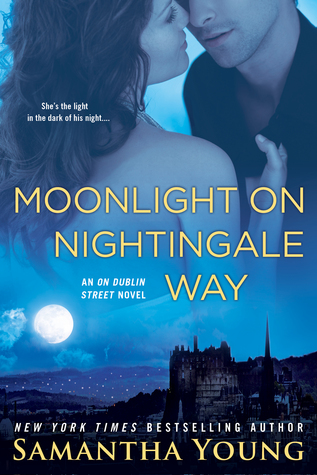 Summary-
Logan spent two years paying for the mistakes he made. Now, he's ready to start over. He has a great apartment, a good job, and plenty of women to distract him from his past. And one woman who is driving him to distraction…
Grace escaped her manipulative family by moving to a new city. Her new life, made to suit her own needs, is almost perfect. All she needs to do is find her Mr. Right—or at least figure out a way to ignore her irresistible yet annoying womanizer of a neighbor.
Grace is determined to have nothing to do with Logan until a life-changing surprise slowly begins turning the wild heartbreaker into exactly the kind of strong, stable man she's been searching for. Only just when she begins to give into his charms, her own messy past threatens to derail everything they've worked to build…
Review-
I have been a Samantha Young fan since she wrote On Dublin Street. I just love her writing style and the way she portrays her characters. That is why it was a bit bitterweet saying goodbye to her On Dublin Street series with Moonlight on Nightingale Way. This is Logan and Grace's book and I have to admit I thoroughly enjoyed myself while reading this.
Logan is Shannon's brother from the last book who has spent two years in jail. Now he's out and ready to start over. In the beginning I thought Logan was an asshole. Plain and simple. Grace is his neighbor and because Logan thinks she'll judge him harshly, he's mean to her. But soon things change and Logan needs to grow up fast. I liked seeing the protective and unsure side of Logan. He was slow to understand his feelings for Grace but he got there.
Grace was a truly sweet heroine. Having left her rich family behind she is full of insecurities and just wants to be loved for who she is. She is very attracted to Logan and goes above and beyond to help him and his daughter out. Her goodness was a perfect balance to Logan's cynical attitude at times. I really enjoyed Grace as a heroine and that was good because the whole book goes from her pov.
Logan and Grace had the whole opposites attract thing down pat. They definitely shared chemistry and I liked how they became friends first, then lovers. The trust between them was slow to build and Logan does mess up but he makes up for it. I love the way Samantha Young writes intimate scenes and I liked them very much in Logan and Grace's case.
We also get to meet ALL the other couples from all the previous books with their kids. They welcome Logan and Grace into their fold with open arms. We get tiny epilogues for each couple as well which was very cute. I enjoyed Joss and Braden and Nate and Liv's the most. If you like Samantha Young, Moonlight on Nightingale Way should not be missed.