Goodreads Summary:
Quentin has always loved Margo Roth Spiegelman, for Margo (and her adventures) are the stuff of legend at their high school. So when she one day climbs through his window and summons him on an all-night road trip of revenge he cannot help but follow.

But the next day Margo doesn't come to school and a week later she is still missing. Q soon learns that there are clues in her disappearance . . . and they are for him. But as he gets deeper into the mystery – culminating in another awesome road trip across America – he becomes less sure of who and what he is looking for.

Masterfully written by John Green, this is a thoughtful, insightful and hilarious coming-of-age story.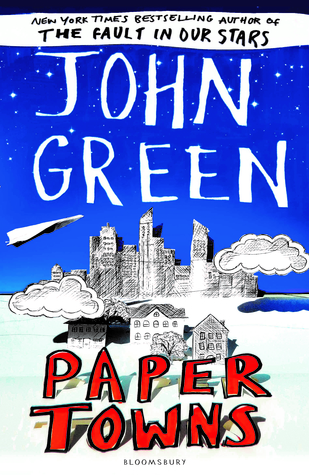 REVIEW:
At first, when I began reading Paper Towns, it seemed like it was another Looking for Alaska with a nerd guy and an attractive, popular and quirky girl. For about fifty percent of the book, it was just that, except we have no girl. But it's when Paper Towns has barely twenty percent remaining that it really begins to kick and goes on to become this action-packed, comical, almost innocent and philosophically enlightening read. That obviously means that the first eighty percent of the book wasn't all that extraordinary, but it wasn't bad at all because overall, the book was great. Honestly speaking though, only the last twenty percent of the book- which makes up part three or The Vessel- is necessary because that is the part where there's that promised road trip. The rest is just filling pages up to make a novel.
Quentin and Margo know each other since childhood as they are neighbours who end up going to the same school. Their acquaintance doesn't really go anywhere until one night when Margo decides to get into Quentin's window and take him on an adventure. Speaking of love and romance in this novel, it was very typical. And even dumb, if I may say so. But the end was simply superb. It was perfect not just in terms of the friendship and all stuff unspoken between Quentin and Margo but for Quentin and Margo as individuals. Quentin was just a regular guy with regular dreams, which was nice and refreshing. Margo was his opposite. While very unconventional, she did stuff without any reason, and both qualities are admirable. But her absence was more than her presence and that was disappointing. Also, her personality and story lacked depth.
The most fun and interesting aspect of Paper Towns is Quentin's friends, Ben and Radar. They were just so fantastic and fabulous that it was hard not to laugh or at least smile when either or both of them were involved. Ben and Radar were amazing friends who were always there for Quentin whether he needed them or not. It is only for these two awesome guys that I have added another half owl to my rating. It would be really cool to read more about them. In the form of novellas, perhaps? Another really lovely aspect was all the hidden philosophy and thought-provoking stuff that John Green is famous for. Also, the pee jokes! I genuinely appreciate toilet humour, so it was hilarious.
While Paper Towns was not something that can be called a marvel or a masterpiece, it was still a fun read that has many points to contemplate. John Green, once again, tells us a brilliant story of American teenagers who are very intellectual for their age. A nerdy book in its essence, Paper Towns is a nice read that is funny and contemplative all at once, which makes it very unique in some way. The reason I read the book is because I wanted to get to it before the movie, so I hope the movie is decent enough. But again, speaking honestly, a movie can be made with just the last twenty percent of the book. Just saying.
RATING: