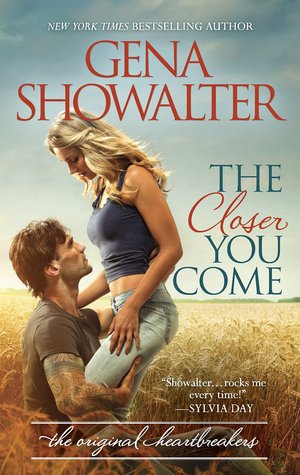 Summary-
New York Times bestselling author Gena Showalter introduces the Original Heartbreakers, where three not-quite-reformed bad boys are about to meet the women who will bring them to their knees.
Just released from prison, Jase Hollister has a dark and twisted past. And now, he has only one goal: stay out of trouble. Strawberry Valley, Oklahoma, sounds like the perfect place for him and his two brothers-by-circumstance to settle down and live a nice, simple life. But model citizen isn't exactly this rugged bachelor's default setting—especially when it comes to a certain hot-blooded Southern beauty…
Brook Lynn Dillon has always been responsible. Not that it's done her much good. The down-on-her-luck waitress is broke, single and fun-deprived. Until Jase comes along. He is dangerous, stunningly protective, breathtakingly sexy and as tempting as sin, and the passion sizzling between them is undeniable. But can it melt her resistance? After all, the right kind of trouble might be just what they both need.
Review-
The Closer You Come is the first full length novel in Gena Showalter's The Original Heartbreakers series. I did not enjoy the novella which preceded this book but I still wanted to give this one a try. Unfortunately this book was even worse than the last one. I had a lot of issues with the characters and their behaviour and I did not care about them.
Let's start with Jase. Jase has been released from prison after a nine year stint. He has a dark and twisted past that he doesn't want to share with anyone. He wants to live quietly in Strawberry Valley. Okay, the first thing I HATED about Jase was that he sleeps with Brook Lynn, the heroine's sister. That was horrible and the worse part was that Brook Lynn walks in on them. Secondly, I like heroes who think they are unworthy of the girl but Jase changed his mind more than a teenage girl.
Brook Lynn is supposed to be the good girl and she was. She works hard to make ends meet for her sister and her and has always been responsible. Then she meets Jase and is very attracted to him. I don't know how she was attracted to him after seeing him with her sister but she was. Brook Lynn was nice on paper but again, I didn't feel like she was unique.
Gena Showalter writes really amazing chemistry and we do get to see a bit of it with Jase and Brook Lynn. But it always got interrupted with one of them backing off and then changing their mind. It was very juvenile and frankly, I expected more. The supposed twist and the end was also unnecessary.
The ones I was really curious to know more about were West and Beck. Beck's book is next and I am eager to see the man whore fall hard. We are introduced to quite a few characters who make up Strawberry Valley. The Closer You Come could not pull me in like Gena Showalter's other read and I didn't like it very much.