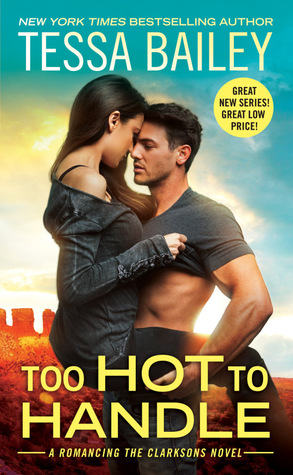 Release date: May 17th, 2016
Summary-
When rescue looks like a whole lot of trouble . . .
The road trip was definitely a bad idea. Having already flambéed her culinary career beyond recognition, Rita Clarkson is now stranded in God-Knows-Where, New Mexico, with a busted-ass car and her three temperamental siblings, who she hasn't seen in years. When rescue shows up---six-feet-plus of hot, charming sex on a motorcycle---Rita's pretty certain she's gone from the frying pan right into the fire . . .
Jasper Ellis has a bad boy reputation in this town, and he loathes it. The moment he sees Rita, though, Jasper knows he's about to be sorely tempted. There's something real between them. Something raw. And Jasper has only a few days to show Rita that he isn't just for tonight---he's forever.
Buy Links-
Review-
I am a huge fan of Tessa Bailey, especially her Crossing the Line series. She writes serious chemistry between her couples and I especially end up liking all the banter which goes along with her characters. Too Hot To Handle is the first book in a new series by her called Romancing the Clarksons. What I found the most fascinating was that this series actually follows four siblings on a road trip. Its hard to wrap your head around it but Tessa Bailey makes it work.
Rita is a chef who has tried to follow her mother's legacy. She was kicked out of a reality show and now all she wants to do is lick her wounds. Unexpected circumstances brings Rita and her siblings together and they find themselves on a road trip. I really liked Rita. She was a woman with insecurities. She is a little shy and tries to be tough but really, she needed to belong somewhere.
When their car has a breakdown the Clarksons have to take a stop at a small town. That is where Rita meets Jasper. Jasper is instantly attracted to Rita and wants - for once in his life - a woman who sees the real him and not just great for a hook up. Jasper has a reputation in the small town but he's ready for a change and he wants Rita.
Tessa Bailey knows how to write a hot romance. Jasper and Rita have amazing chemistry and they work well together. With her signature dirty talk Tessa's heroes are all alpha male. But this may be a surprise but what I liked even more than the romance was the relationship the four siblings shared. They are as Rita claims emotionally stunted Clarksons but it is easy to see that they love each other.
All siblings are as different as day and night. There's the silent and brooding eldest, Rita is the second oldest, then there's the flamboyant politician who is number three and the youngest wild child sweetheart who has broken of four engagements. I loved all the sibling banter. It was hilarious. Aaron is the politician who has his story next and I can't wait for it. I was a little bummed at the ending because I wanted it to end in a different way but oh, well. This was a good read for me.
*Note: A copy of this book was provided by the Author/Publisher via Netgalley in exchange for an honest review. We thank them.
About the Author-
Tessa Bailey is originally from Carlsbad, California. The day after high school graduation, she packed her yearbook, ripped jeans and laptop, driving cross-country to New York City in under four days.
Her most valuable life experiences were learned thereafter while waitressing at K-Dees, a Manhattan pub owned by her uncle. Inside those four walls, she met her husband, best friend and discovered the magic of classic rock, managing to put herself through Kingsborough Community College and the English program at Pace University at the same time. Several stunted attempts to enter the work force as a journalist followed, but romance writing continued to demand her attention.
She now lives in Long Island, New York with her husband of eight years and four-year-old daughter. Although she is severely sleep-deprived, she is incredibly happy to be living her dream of writing about people falling in love.