Summary-
From the author of Fly with Me and the Capital Confessions Novels comes the newest in the sexy Wild Aces Romance series.
Eric Jansen—call sign Thor—loves nothing more than pushing his F-16 to the limit. Returning home to South Carolina after a tragic loss, he hopes to fix the mistake he made long ago, when he chose the Air Force over his fiancée.
Becca Madison isn't quick to welcome Thor back. She can't forget how he shattered her heart. But Thor won't give up once he's set his sights on what he wants—and he wants Becca.
Thor shows Becca that he's no longer the impulsive boy he used to be, and Becca finds herself irresistibly drawn to him. But will Thor be able to walk away from his dream of flying the F-16 for their love or does his heart belong to the sky?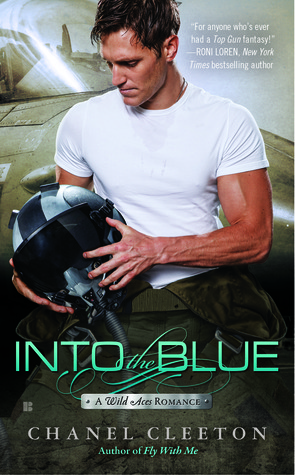 Release date: July 5th, 2016
Published by: Berkley
Page numbers: 320
Review-
I had really enjoyed Fly With Me, the first book in Chanel Cleeton's Wild Aces series. So I was pretty excited to read Into the Blue which is Eric and Becca's story. Plus I always enjoy a good second chance romance and Into the Blue was a pretty good one. I don't know if this one is my favourite out of the series, because I'm still keeping things open for Easy's book which is next. But anyways, let's get into what I thought of Into the Blue.
Eric, whose call sign is "Thor" is our hero. He loves flying, he loves pushing himself to the limit but recent incidents have made him uneasy. He can't get over the death of a loved one and it is causing him trouble while flying. So he does the only thing he can think of, takes leave and goes back to his hometown where he hasn't been in 10 years. I really liked Eric. He was suffering from PTSD and the only person he has ever been able to talk to freely to has been Becca. I loved the connection he shared with her.
Becca on the other hand has spent years trying to get over her fiance who dumped her without a word of warning. 10 years is a long time and all Becca wants is for someone to love her and to put down roots with her. I really liked Becca too. I could see why she found it so hard to trust Eric. She just wanted to be loved when most people in her life had abandoned her. Becca was a sweet heroine but she found it hard to forgive Eric.
I loved the chemistry between Eric and Becca. 10 years have passed but they both still feel the same way about each other inspite of each trying to move on. It was easy to see that Eric regretted his mistake and wanted to fix things between Becca and him. There is a right amount of angst in the book which shows us the depth of feelings for both the characters.
I also loved seeing characters we already know from Fly With Me. Like I said before, I'm REALLY looking forward to Easy's book. That man has been through hell and back and he deserves his happy ending. But I know there is more torture ahead. I also love the way the author shows bonds of family and friendship with all the characters in this series. Into the Blue was a really satisying second chance romance.
*Note: A copy of this book was provided by the author/publisher via Netgalley in exchange for an honest review. We thank them.