Summary-
New York Times bestselling author Nalini Singh continues her Rock Kiss series with a hot, sweet, emotional contemporary romance about love and forgiveness…

After a lifetime of longing for a real family, Sarah Smith thought she'd finally found her home with rock star Abe Bellamy, even if she knew Abe didn't love her the way she loved him. But their brief relationship, filled with tragedy and heartache, nearly destroyed her. Alone, emotions in turmoil, and already shaky self-esteem shattered, Sarah struggles to pick up the pieces in the wake of their divorce.

Abe knows he's to blame for the end of his marriage. Caught in a web of painful memories, he pushed away the best thing in his life – the sexy, smart woman he adores – breaking them both in the process. Then fate throws him a second chance to get things right, to prove to Sarah that she means everything to him. Abe desperately wants that second chance at love...even if he knows he doesn't deserve it.

But can he convince Sarah – now strong and independent without him – to risk her wounded heart one more time?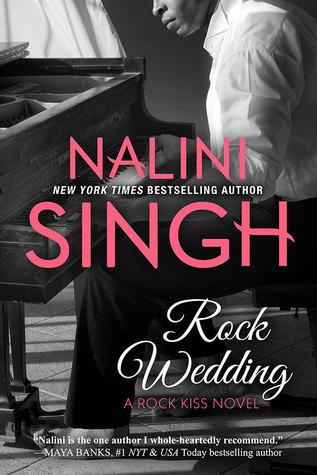 Release date: July 19th, 2016
Published by: TKA Distribution
Page numbers: 345
Review-
Rock Wedding is fourth and final book in Nalini Singh's Rock Kiss series. I am a huge Nalini Singh fan and I have been with this series right from the start. So I am a little sad to see it end. But fear not, Nalini Singh has more contemporary romances up her sleeve, of that I'm sure. But getting back to Rock Wedding, I think it may possibly just be my favourite out of the entire series. But then I loved all of them so I can't exactly pick.
Rock Wedding is the story of Sarah and Abe and it is a second chance romance. These two were married before Abe's drug addiction destroyed what was between them. Let's just start with Abe. Abe has suffered a lot. He's dealt with alcohol and drug addiction and because of it he lost the most precious person in his world, Sarah. In the flashback you can see that Abe was an asshole but he is truly transformed in the present. He knows whats important and is ready to fight for Sarah. Abe truly and completely redeems himself by the end of the book and leaves us with no doubt about his love for Sarah.
Sarah and Abe were young when they got married. Sarah thought she'd found her soulmate in Abe but when their relationship was destroyed it left her with a lot of scars emotionally. Sarah was a really sweet heroine. She had had a difficult childhood and she had her insecurities but all she wanted was to be loved. Add to that the fact that she had two miscarriages, Sarah's wounds run deep and she is not ready to trust Abe again. But I loved how forgiving and understanding Sarah was.
It is easy to see the connection Abe and Sarah share. They both had some growing up to do and become independent in their own way. Despite the sadness in both Abe and Sarah's lives they did not dwell on it. They were both healing and the genuine sweetness of their relationship shone throughout the book. There were also plenty of steamy scenes which showed us how deeply intimate they were with each other.
This book is titled Rock Wedding for a reason. Everyone and their mother gets hitched in this book and I love love loved it! I loved seeing Fox and Molly, David and Thea, Noah and Kit and Gabe and Charlie. It just made me so happy to see them doing so well. Finally all of them got the ending they truly deserved. So finally, I absolutely adored Rock Wedding and I can't wait to see what Nalini Singh has next in store for us.
*Note: A copy of this book was provided via Netgalley by the author/publisher in exchange for an honest review. We thank them.