From the "awesomely, incredibly talented"* New York Timesbestselling author of Still the One, comes a sexy new Animal Magnetism novel set in Sunshine, Idaho, where the sky is the limit when it comes to love.
Pilot-for-hire Zoe Stone is happy to call Sunshine, Idaho, her home base. But her quiet life is thrown for a loop when her brother's friend Parker comes to stay with her for a week. The U.S. Fish and Wildlife special agent is a handsome flirt with a gift for getting under her skin. And the situation only escalates when Parker hires her to fly him around the area while he collects evidence on a suspected smuggler.
Now she has to live and work with the guy. But when they're in the air, she sees another side of him. He's driven, focused, and sharp. And while he enjoys giving commentary on her blind dates, she quickly realizes with a shock that it's Parker who gets her engines going…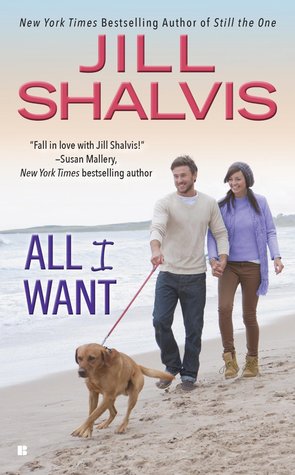 Release date: October 6th, 2015
Published by: Berkley
Review-
Books like
All I Want
is one of the many reasons I love Jill Shalvis. Her books just make me happy and always leave me with a big smile on my face. All I Want is the seventh instalment in Jill Shalvis' Animal Magnetism series but it can totally be read as a stand alone. I would in fact, recommend this read and skipping over a few others if you don't want to get into the entire series.
Zoe is our heroine. She is a pilot-for-hire. Zoe is the eldest of three siblings and now that her brother and sister have moved out and found the love of their lives she's feeling a bit lonely. But things change when Parker comes crashing in. I loved Zoe. She was such a sweet and determined heroine. She knew what she wanted and was so honest and straight forward with her feelings.
Then we have Parker. Parker was the perfect combination of stubborn and protective. He couldn't deny that he was fascinated by Zoe and that she brought light into his life but he was also aware that things always got dangerous when he was around. I really adore Parker's relationship with his sister and with Zoe's dog Oreo. Him adopting two tiny kittens was cute beyond compare.
The way Parker and Zoe meet was funny yet cute. They have an undeniable attraction and everyone can see their chemistry. Though Parker keeps on insisting that nothing can be permanent between them Zoe gets under his skin. I loved the conversations Zoe and Parker shared. They were hot and sexy and just meant to be together.
I liked the little bit of action and suspense elements we got with All I Want. That was a little bit different but it didn't take away from Zoe and Parker's love story. We also get to see some of the previous couples from the series and that is always nice. All I Want was an amazing feel good read for me.