Summary-
The up-and-coming matchmaking agency Kinnections is the hottest thing to hit Verily, New York—just like Kennedy Ashe, social director for the service she owns with her two best girlfriends. A coach, consultant, and cheerleader rolled into one super-sizzling package, Kennedy creates dream dates, encourages singles to shine, and never refuses a challenge—not even Nate Ellison Raymond Dunkle, rocket scientist, nerd extraordinaire, and Kennedy's newest client.
Kennedy vows to work her magic and transform this hot mess in a lab coat with a disastrous relationship track record into the most wanted man on the Verily dating scene. If only she could turn the wand on herself . . .
Though she radiates confidence and sex appeal, Kennedy harbors deep-seated insecurities from a tormented past and lifelong struggle with weight issues. When she realizes she and Nate are cut from the same cloth and might be perfect together, can Kennedy learn to let her heart lead the way? Or will her fears sentence her to the sidelines as Nate finds love—with someone else?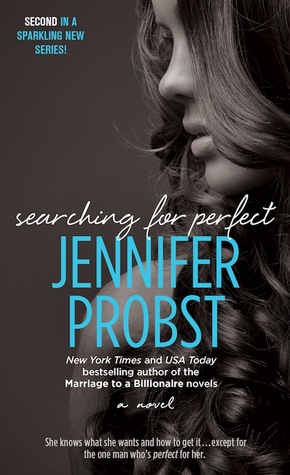 Release date: April 29th, 2014
Published by: Gallery Books
Review-
I like Jennifer Probst as an author. She always writes feel good romances and I enjoyed her Marriage to a Billionaire series. While I had found the first book in this series to be okay, I was expecting more out of
Searching For Perfect
. Sadly, it did not meet my expectations.
Lets start with the good first. Nate our hero is a rocket scientist and really clueless where love and relationships are concerned. He is direct and thinks there's a scientific solution for everything. Nate was one sexy nerd! He was really sweet and completely smitten by Kennedy, even though she was his match maker. I liked reading about a nice guy for a change who was genuine about his feelings.
I didn't really like Kennedy. Kennedy has a seemingly perfect life. She has worked extremely hard to get where she is but she is bored of the monotony. So when Nate comes to Kinnections she takes finding him love as a challenge. Kennedy also has a lot of issues with insecurity. With the way Kennedy's past was shown I expected her to be nicer but she was really mean at times. I didn't get her behavior and I didn't like her very much.
The scenes between Nate and Kennedy were hot. They have chemistry and the attraction required but I didn't totally see their reasons for being together. I wanted a deeper connection between them than just the looks. What I really had issues with though was the dog collar scene. It disturbed me and it is a big fat NO in my book.
It was really nice seeing all the characters from the previous books. My love for Wolfe still remains strong. I am so damn intrigued by his character and I think I keep reading this series just to get glimpses of him in between. Searching for Perfect was an okay read for me.