Summary-
A beard-related dare and one hot-as-hell kiss changes everything.
NFL center Ethan Dexter's focus has always been on playing football and little else. Except when it comes to one particular woman. The lovely Fiona Mackenzie might not care about his fame, but she's also never looked at him as anything more than one of her brother-in-law's best friend. That ends now.
Fi doesn't know what to make of Dex. The bearded, tattooed, mountain of man-muscle looks more like a biker than a football player. Rumor has it he's a virgin, but she finds that hard to believe. Because from the moment he decides to turn his quiet intensity on her she's left weak at the knees and aching to see his famous control fully unleashed.
Dex is looking for a forever girl, but they live vastly different lives in separate cities. Fi ought to guard her heart and walk away. But Dex has upped his game and is using all his considerable charm to convince Fi he's her forever man.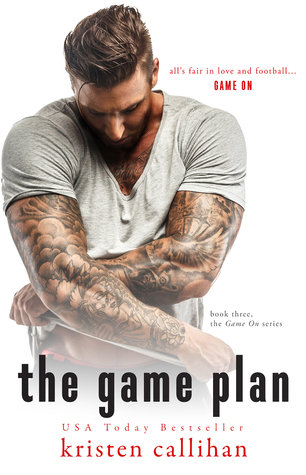 Release date: November 1st, 2015
I had really enjoyed the first two books in the Game On series by Kristen Callihan so I was super excited to read
The Game Plan
. There were a few hints given in the last book that this one may be about Fi and Dex and these two couldn't be more opposite than each other. Though I wasn't that blown away by The Game Plan, I really did enjoy the book.
Ethan Dexter is an NFL center. He has always been calm and composed, never letting anything get to him. He is the strong, silent and bearded type whose presence can be felt though he tries not to be the center of attention. I really liked Dex. He was so smitten by Fi and he wanted her with everything he had. He was tired of living the lonely life and Fi was all things bright and happy.
Then we have Fiona or Fi as most people refer to her. Fi has always been the party girl. Even though she has come a long way, sometimes that image comes back to haunt her. All Fi wants to do is focus on her career and prove that she can be independent but Dex comes along. I liked Fi. She had genuine reasons for hesitating with Dex with the whole long distance relationship thing. She was the perfect fit to Dex.
Dex and Fi were both really likable characters. They have their faults but never does it get irritating to be in either's head. Yes, they both make mistakes but they are willing to learn from them. Fi and Dex also shared amazing chemistry. It is hard to imagine but Dex is a virgin hero which made things really interesting.
It was also really great to see Ivy and Gray with their kid and Anna and Drew. They made for a great support system for Dex and Fi. I am extremely curious to see what happens next in the Game On series and as to who will be the next couple. I enjoyed the Game Plan.