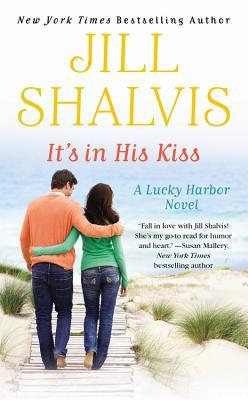 Summary-
ONE KISS CAN LAST FOREVER
Becca Thorpe has uprooted her life and escaped to the beach. Now's her chance to get away from city living, throw caution to the ocean winds, and live in the moment. Especially if the moment includes the deliciously sexy surfer she meets shortly after arriving in Lucky Harbor. Something about the dark intensity of Sam's eyes and the thrill she gets at his touch convinces her to stay awhile.
Boatbuilder and investment genius Sam Brody is a self-made man who knows how dangerous it can be to mix business and pleasure. But he can't resist offering Becca a job just to hear her laugh and have her near. Yet when her brother comes to town asking for help, will he tempt her back to her glamorous life in the city? Or do Sam and little Lucky Harbor have a chance to win Becca's heart?
Review-
It is no secret that I love Jill Shalvis' books. I adore the Lucky Harbor series so of course when I got a chance to read It's in His Kiss I got right to it. It's in His Kiss is the tenth book in the Lucky Harbor series. This book starts off the last set of trilogy which will be in the series. Its the story of Becca and Sam and I really loved it.
Becca needed an escape from her life so she's moved to Lucky Harbor. Lucky Harbor was supposed to be just a pit stop for her but soon it becomes so much more. I really liked Becca. She was sweet and sassy and not afraid to show her feelings. She had her genuine fears and a horrible past but she was still very determined. All in all Becca was very easy to relate to.
Then we have Sam. Sam with his two friends Cole and Tanner run a boat business. I really liked Sam but he was a stubborn man. Sam has had a hard past and he knows never to mix business with pleasure. When Becca starts working for Sam he can't resist her. Sam was the typical brooding hero. He was strong and silent. I really liked how protective he was of Becca. He does behave like an ass at times but he knows when he's made a mistake.
Becca and Sam were really good together. Becca's sweetness was the perfect balance to Sam's jadedness. They had incredible chemistry and the intimate scenes were sweet yet sexy. I absolutely loved watching Sam unknowingly fall for Becca and Becca regaining her confidence because of Sam. They were good for each other.
I also loved Sam's friends Cole and Tanner. Tanner is still a bit mysterious but I loved Cole's sense of humor. I am really looking forward to his book next. It's in His Kiss was a wonderful read which makes you feel good at the end of the day. I love the town of Lucky Harbor so I enjoyed It's in His Kiss.
*Note: A copy of this book was provided by the author/publisher through Netgalley in exchange for an honest review. We thank them.