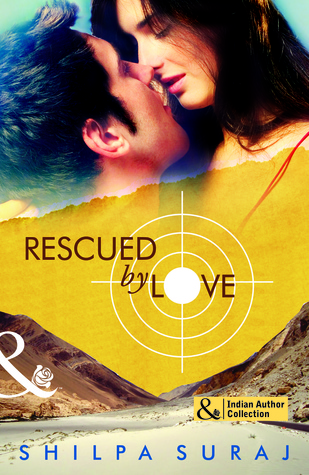 Summary-
When Naina Ahuja is kidnapped as hostage days before her father, a Supreme Court Chief Justice, must sentence a terrorist, the stakes are very high. Lt Col Arjun Rathore and his team are the only ones who can be trusted with the mission of saving her.
During their arduous trek back through the hostile terrain of Ladakh, Arjun and Naina spend days in danger of losing their lives - and their hearts. Back in safety, the real world and its very real problems threaten – as do their own perceptions of the differences between them.
They must separate – but will life rescue their love?
Review-
I had previously read The Girl He Left Behind by Shilpa Suraj and really enjoyed it, so when I got a chance to read her latest release, Rescued by Love, I went for it. I have to say I liked Rescued by Love even more than her previous book. Rescued by Love was a sweet and quick romance read.
Naina is our heroine. She is the daughter of the Supreme Court Chief Justice and she is kidnapped as hostage days before he must sentence a terrorist. I really liked Naina. She was such a strong heroine. The circumstances under which she meets Arjun are horrific and yet she tries to make the best out of the situation. I loved how she remained such a sweet and nice girl even after her awful family issues.
Then we have Arjun. Arjun is the one who rescues Naina. Arjun was quite the typical tall, dark and handsome guy. He was an introvert in comparison to the bubbly nature which Naina shared. He didn't know what to do with his sudden feelings for Naina and tries his best to ignore them. But he definitely comes around.
I really liked the chemistry Naina and Arjun shared. While Naina wanted to jump head first into her feelings, Arjun was more hesitant. But they both couldn't deny the attraction. It seems like the universe is always stacking up odds against their favor and we do get to see that throughout the book. I do wish Arjun would have acted towards Naina sooner but then again, he wouldn't be the Arjun we knew then.
Shilpa Suraj weaves an exciting tale through Ladakh to Goa. The story was very engaging and I was really rooting throughout for Naina and Arjun to finally get together. A special mention goes out to Arjun's brother Aryan, he was an amazing younger brother with a good sense of humor who wanted what was best for Arjun. Rescued by Love was a good read.
*Note: A copy of this book was provided by the author in exchange for an honest review. We thank them.