Summary-
A twist of fate...
Devon Ravenel, London's most wickedly charming rake, has just inherited an earldom. But his powerful new rank in society comes with unwanted responsibilities . . . and more than a few surprises. His estate is saddled with debt, and the late earl's three innocent sisters are still occupying the house . . . along with Kathleen, Lady Trenear, a beautiful young widow whose sharp wit and determination are a match for Devon's own.
A clash of wills...
Kathleen knows better than to trust a ruthless scoundrel like Devon. But the fiery attraction between them is impossible to deny—and from the first moment Devon holds her in his arms, he vows to do whatever it takes to possess her. As Kathleen finds herself yielding to his skillfully erotic seduction, only one question remains:
Can she keep from surrendering her heart to the most dangerous man she's ever known?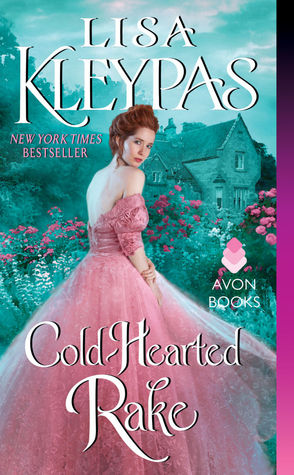 Release Date: October 27th, 2015
Published by: Avon
Page numbers: 416
Review-
After reading the recent contemporary romances by Lisa Kleypas I was feeling a little let down by her so I was really excited to see that she had a new historical romance.
Cold-Hearted Rake
is the first book in The Ravenels series by Lisa Klepas. I thoroughly enjoyed myself while reading Cold-Hearted Rake.
Devon Ravenel is a wicked rake who ends up inheriting an earldom. What he doesn't expect is to inherit three cousins with it. Nor does he expect to be so fascinated with his cousin's widow. I really liked Devon. He was a rake and he could be cruel and harsh when he wanted to be but his heart was always in the right place. I also found it charming that he was so smitten by Kathleen.
Kathleen is our heroine. She's just lost her husband but she can't bring herself to mourn about a person whom she didn't love. Kathleen had a history of her own but all she wanted to do was take care of her sisters-in-law. I really liked Kathleen. I liked how she stood up to Devon and wasn't afraid to speak her mind. She wanted to be loved for who she was.
Kathleen and Devon's romance was a slow burn. It was definitely one of those love-hate relationships in the beginning but they soon start understanding each other. I just love the way Lisa Kleypas writes romance. There is so much depth and complexity and intimacy in every scene. We also get to see the start of Helen and Rhys' story.
We get to see many characters in Cold-Hearted Rake. Lisa Klepas has set up the foundation for a great series. That is the reason that the love story some times took a bit of a back seat. But I enjoyed it none the less. I loved the twins and I'm so excited for Marring Mr.Winterborne

w
hich is the next book. I highly recommend Cold-Hearted Rake.