Goodreads Summary:
From #1 New York Times bestselling author Colleen Hoover, a new novel about risking everything for love—and finding your heart somewhere between the truth and lies.
Auburn Reed has her entire life mapped out. Her goals are in sight and there's no room for mistakes. But when she walks into a Dallas art studio in search of a job, she doesn't expect to find a deep attraction to the enigmatic artist who works there, Owen Gentry.
For once, Auburn takes a risk and puts her heart in control, only to discover Owen is keeping major secrets from coming out. The magnitude of his past threatens to destroy everything important to Auburn, and the only way to get her life back on track is to cut Owen out of it.
The last thing Owen wants is to lose Auburn, but he can't seem to convince her that truth is sometimes as subjective as art. All he would have to do to save their relationship is confess. But in this case, the confession could be much more destructive than the actual sin…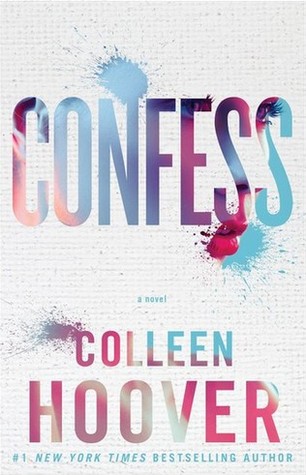 REVIEW:


Even though I was pretty apprehensive about reading Confess as I have had both positive and negative experiences with Colleen Hoover previously, I was quite excited to read the book after following all the teasers the author was sharing on her social media. Confess started out as really cute read, then went onto to become too much of a drama, but ended on the sweetest note. So all in all, this was a good read that I enjoyed.
Confess is a typical Colleen Hoover book which is generally comprised of the wonderful combination of friendship, family, love, issues and problems and most importantly, characters who show human nature as being good or bad, which isn't necessarily a good division to make all the time. As our main characters, we have Auburn as the female lead, who was really sweet and showed immense character development by the time the book ended. There were times when she was extremely vulnerable and the fact that she didn't stand up for herself irritated me, but her situation was always explained.


Then there is Owen, who was just as sweet as Auburn, but I did feel that he was way too good to be true. He came with his own guilt baggage, but never once did he make his situation seem more important than that of those around him, which was good. There were also two other guys who played an important role in the book, and they were Adam and Trey. Adam was the hero of the book for me, and Trey was way too dumb to ever get his way.
Coming to the chemistry between Auburn and Owen, it was quite good and I liked how they both had bigger problems than what they seemed to be showing. Although the instalove between them had me questioning the whole relationship and their secrets were too big to be hidden, they made for a good couple. It's just that we didn't get to see them actually sit down together and discuss their problems. Everything was kind of in the air and left to find it's own way.
Overall, as I said before, Confess was a cute read that did have some downs. But just for the fact that this one didn't annoy me like the previous few books by Colleen Hoover, I feel that it stands out as a good read. Not as good as the first half a dozen books by the author, but still, quite good.


RATING: