Goodreads Summary:
The prequel to The Many Lives of Ruby Iyer: This is a peek into the soul of an angry, young girl, who will come of age in a city on the verge of total annihilation.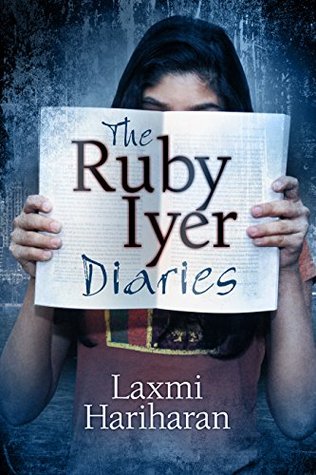 REVIEW:
The Ruby Iyer Diaries is a prequel to The Many Lives of Ruby Iyer, a dystopian set in Mumbai that has been on my to-read pile since quite some time now. Most readers have been reading the prequel after having read the first full-length book in the series. As I'm always up for novellas and I don't like breaking links, I thought I would read The Ruby Iyer Diaries first as it gives us a glimpse into the life of Ruby Iyer.
The Ruby Iyer Diaries is a collection of letters from Ruby, the main character's personal diary. These letters start from when Ruby was a ten year old school girl and go on until she turns sixteen and starts college. For a twenty odd pages short novella, this book is an enjoyable read. Ruby's convent school experiences took me back to my own school days, which always leaves me smiling and nostalgic, which is a positive point for me.
As I have not yet read The Many Lives of Ruby Iyer, I cannot really say whether this novella is absolutely essential before starting with the series. I don't see why it won't be useful as it has helped me understand Ruby and it will make other readers understand the character as well. I suppose Ruby's family situation and the start to her kick-ass personality are well shown in The Ruby Iyer Diaries. I can't wait to see how Ruby stands up for herself in the future as well and what adventures she encounters.
I can pinpoint only one reason as to why the novella won't be so useful and that reason is simple. Our teenage years are a mess. We don't grow up to be who we were back then. All of us change, for better or worse. So it doesn't really matter what Ruby did or how she was before, as her present is what will matter most to readers. Also, Ruby's voice seemed very mature to me as compared to her age.
In any case, like I said before, his novella is quite an enjoyable read that has left me eager to start with the series.
RATING: