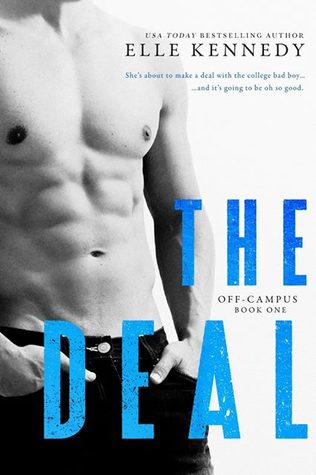 Summary-
She's about to make a deal with the college bad boy...
Hannah Wells has finally found someone who turns her on. But while she might be confident in every other area of her life, she's carting around a full set of baggage when it comes to sex and seduction. If she wants to get her crush's attention, she'll have to step out of her comfort zone and make him take notice…even if it means tutoring the annoying, childish, cocky captain of the hockey team in exchange for a pretend date.
...and it's going to be oh so good.
All Garrett Graham has ever wanted is to play professional hockey after graduation, but his plummeting GPA is threatening everything he's worked so hard for. If helping a sarcastic brunette make another guy jealous will help him secure his position on the team, he's all for it. But when one unexpected kiss leads to the wildest sex of both their lives, it doesn't take long for Garrett to realize that pretend isn't going to cut it. Now he just has to convince Hannah that the man she wants looks a lot like him.
Review-
The Deal by Elle Kennedy was actually one of my most random picks which I thought I'd try after reading the summary and some rave reviews about it on Goodreads. I have to say it was one of the best decisions I've made because The Deal turned out to be a fantastic new adult read which I truly enjoyed.
Hannah has had a bad past but she is almost over it. Now she wants to move on, go on dates and be happy. The only problem is that her crush doesn't seem to know that she exists. The only solution she has is to get help from Garrett. I loved Hannah. She was so sweet and lovely and had so much depth to her. I genuinely liked her as a person and I loved the way she dealt with things.
Then we have Garrett. Garrett is the captain of the hockey team and he wants to play professional hockey after graduation. The thing is, Garrett is not doing so well in one of his classes and he needs to maintain his GPA to confirm his spot on the team. Here he makes a deal with Hannah to help him out in return for him trying to get her crush to notice her. I loved Garrett. His facade of the cocky over confident guy was just that, a facade. Beneath he was a genuinely nice person, dealing with his issues.
I loved the way Garrett and Hannah were together. They start out as friends, more like out of option friends but they were great with each other. They argued but they shared great chemistry and were always looking out for each other. How they understood what the other was going through was so cute to see. They made a really awesome couple.
I also loved Garrett's mates and Hannah's friends. All the conversations were so funny and I kept grinning while reading the book. The Deal was very realistic where the relationship and other factors were concerned. It was a great refreshing new adult romance. I will definitely be reading the next book in this series.