Goodreads Summary:
Eighteen-year-old Arcadia wants adventure. Living in a tiny Florida town with her dad and four-year-old brother, Cadie spends most of her time working, going to school, and taking care of her family. So when she meets two handsome cousins at a campfire party, she finally has a chance for fun. They invite her and friend to join them on a road trip, and it's just the risk she's been craving-the opportunity to escape. But what starts out as a fun, sexy journey quickly becomes dangerous when she discovers that one of them is not at all who he claims to be. One of them has deadly intentions.

A road trip fling turns terrifying in this contemporary story that will keep readers on the edge of their seats.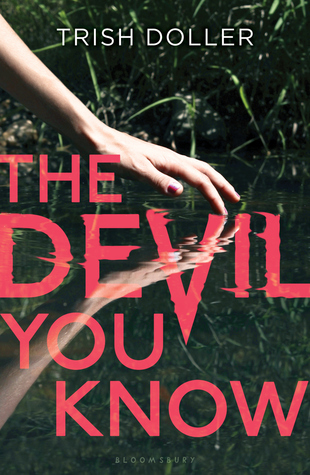 REVIEW:


The realisation that I have come to after reading The Devil You Know is that I miss the Trish Doller who wrote that insightful and simply dazzling book, Something Like Normal. The author wrote two books after that (one of which was Where the Stars Still Shine); both of which ended up being disappointing, for me at least. Having said that, I didn't hate the author's third novel, The Devil You Know, but I didn't appreciate it immensely either. While the beginning and the ending were both really nice, the rest of the story was just predictable and dull.
After losing her mother to cancer, Arcadia becomes mother to her little brother while her father still mopes over the loss of his wife. Thoroughly done with being the responsible person in the house, on one of her day off, Arcadia decides to just let it all go, leave it all behind and take a break by going to a party happening somewhere nearby. That's where she meets two cousin brothers who are out on a road trip. She is attracted to them both, but thankfully, she prefers one over the other. Arcadia, whether in rage, rebellion or sheer dumbness (I can't point out which) decides to accompany these guys up to a certain extent because that's her only ticket to escape and finally live the adventures she has only dreamt of until now. She has no idea what adventure really awaits her.
While the need to turn dreams into reality, being attracted to someone truly hot and nice, taking the risk to do something, whatever that may be, is understandable, there were so many aspects that had me questioning the whole point of the book. When Arcadia was so concerned about her family, I didn't see why she had to take off with someone she barely knew. While she seemed really caring at first, she just turned out to be dumb later. Although I have to give her credit for the act she pulled out at the end of the book. I couldn't stand her most of the time, but she didn't piss me off to no end either. She was just about bearable and her love and respect for her mom was nice to see. Of the two brothers, I really liked Noah. He was genuinely nice and his dog Molly was the centre of attention and highlight of the book for me.
What was really nice about The Devil You Know was the mystery surrounding the story from the very beginning. It was easy to figure out there was something really freaky going on, and even easier to find out who the culprit was. It was really the dullest point ever. At one point, the story turned very alarming and spine-chilling which was really a work of marvel by Trish Doller. And as mentioned before, the very intriguing beginning and the gutsy and nice ending were a relief. It's just that everything that happened in between was very average and honestly, sometimes even unnecessary. All in all, this was just an okay read that thankfully was quick as well.
RATING: