Goodreads Summary:
Sixteen-year-old and not-so-openly gay Simon Spier prefers to save his drama for the school musical. But when an email falls into the wrong hands, his secret is at risk of being thrust into the spotlight. Now Simon is actually being blackmailed: if he doesn't play wingman for class clown Martin, his sexual identity will become everyone's business. Worse, the privacy of Blue, the pen name of the boy he's been emailing, will be compromised.
With some messy dynamics emerging in his once tight-knit group of friends, and his email correspondence with Blue growing more flirtatious every day, Simon's junior year has suddenly gotten all kinds of complicated. Now, change-averse Simon has to find a way to step out of his comfort zone before he's pushed out—without alienating his friends, compromising himself, or fumbling a shot at happiness with the most confusing, adorable guy he's never met.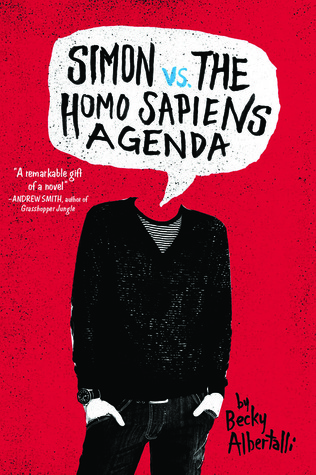 REVIEW:
Based on my read and to-read shelves, Goodreads kept recommending Simon vs. the Homo Sapiens Agenda to me. It wasn't long before I finally took the recommendation seriously and read the book. After having recently read a series of books with predictable plots, Simon vs. the Homo Sapiens Agenda came as a pleasant surprise. This was one of those stories that pulled me in immediately. From the very beginning, I felt that I was part of the story and when a book does that, it is bound to be awesome.
Simon is a regular sixteen, soon to be seventeen year old, and he was one of the coolest protagonists ever. He reminded me so much of Charlie from The Perks of Being A Wallflower because of his innocent, sort of awkward and quirky but friendly personality. He really is the kind of person anyone would want to be friends with. I absolutely loved him. He was adorable and what was most admirable was how his family and friends ended up being just as important as he was throughout the book. What a pleasure it was to meet the Spiers and to spend some fun time with Simon's awesome friends and classmates. From the beginning until the very end, this was the wonderful story of Simon coming out and coming of age.
For me, the book itself was something like and between The Perks of Being A Wallflower by Stephen Chbosky meets Will Grayson, Will Grayson by John Green and David Levithan meets Boy Meets Boy by David Levithan, three books that I absolutely love. The plot was really awesome and the fact that there was a school play involved made it all the more awesome because it's just so wonderful when that happens. Like I said before, as a reader, the story put me right there, with Simon and the gang. The pace was good and the story stayed lovely throughout and ended on a very sweet note.
Author Becky Albertalli has written a cute, funny, emotional and absolutely awesome book. The writing was so pretty that if I could, I would highlight every line from it. Oh, and don't even get me started on all the Harry Potter references. It was the coolest part ever, and I loved every bit of it, from the glasses to the costume to the fanfiction. Nothing can make me fall in love with a book more than having Harry Potter stuff in it. Simon vs. the Homo Sapiens Agenda was an enjoyable read that put me in a happy and sunshine-like mood, as if having Harry Potter in it wasn't enough.
RATING: