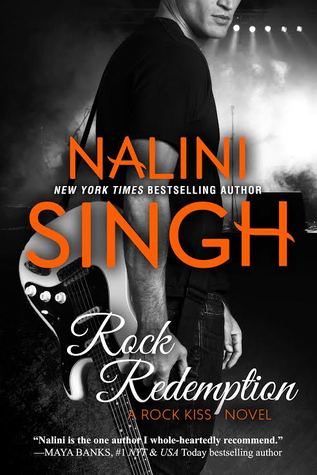 Summary-
Kit Devigny could have loved rock guitarist Noah St. John. Their friendship burned with the promise of intense passion and searing tenderness…until the night Noah deliberately shattered her heart.
Noah knows he destroyed something precious the night he chose to betray Kit, but he'd rather she hate him than learn his darkest secret. All he has left is his music. It's his saving grace, but it doesn't silence the voices that keep him up at night. Chasing oblivion through endless one-night-stands, he earns a few hours' sleep and his bad boy reputation.
When a media error sees Noah and Kit dubbed the new "it" couple, Kit discovers her chance at the role of a lifetime hinges on riding the media wave. Wanting—needing—to give Kit this, even if he can't give her everything, Noah agrees to play the adoring boyfriend. Only the illusion is suddenly too real, too painful, too beautiful…and it may be too late for the redemption of Noah St. John
Review-
I had been waiting for Kit and Noah's story since the first moment I saw them together on the same page. I had pretty much been stalking the author for an ARC and I was lucky enough to get one. I have to admit that Rock Redemption was not what I expected. It was a different read but that's not to say that it was a bad read because it definitely wasn't.
Let's start with Kit. Kit was one of the most amazing heroines I've ever read about. I don't know how she was strong enough to forgive Noah every single time but she did. She was so in love with Noah and all she wanted to do was work things out between them. Kit was sweet and sexy and fun and I enjoyed reading about her. Finally she got what she deserved.
Then we have Noah. Noah is an asshole quite a few times during the book. He is a hard hero to like but as we delve into his personality and see his past you get to understand him. Noah is so SO broken. I don't even know how he survives but a major reason for that is Kit. Noah wants to protect and cherish what he has with Kit even though he knows he can't give her anything more. He thinks he is unworthy of her.
Kit and Noah had chemistry but that definitely took a back seat in this book. Rock Redemption was more focused on Kit and Noah rebuilding their friendship and Noah healing from his horrible childhood. I have to say I would have loved more romance in the book but somehow Noah and Kit had to accomplish this first and only then could they move on.
I always love how Nalini Singh portrays friendships so I loved seeing the entire band with their better halves. I am also super curious to see what is happening between Abe and Sarah as we are hinted at their VERY complicated relationship. All in all, Rock Redemption was a good but a bit of an unexpected read.
*Note: A copy of this book was provided by the author/publisher in exchange for an honest review. We thank them.