Summary-
He has one last chance to deserve the girl of his dreams...

Overachiever River Purcell was never supposed to be a struggling single mom, working double shifts just to make ends meet. Nor was she supposed to be abandoned by her high school sweetheart, breaking her heart into a thousand jagged pieces. Now Vaughn De Matteo is back in town, his sights set onher...and River is in danger of drowning a second time.

No one believed Hook's resident bad boy was good enough for River. Not even Vaughn himself. But he'll fight like hell to win back the woman he never stopped loving, to keep the daughter he never expected, and convince himself he's worth their love in the process--even if he has to rely on their fierce and undeniable sexual chemistry.

But even as River's body arches under his hungered touch, the demons of the past lurk in the shadows. Waiting for Vaughn to repeat his mistakes one last time...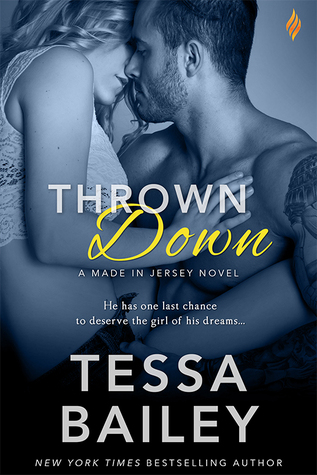 Release date: April 4th, 2016
Published by: Entangled: Brazen
Page numbers: 219
Review-
I really love some of the Tessa Bailey books I've read. They've been short yet sexy and they completely grab my attention wanting the particular couple to get their happy ending. Unfortunately, I just haven't been able to get into her Made in Jersey series. Thrown Down is the second book in the Made in Jersey series and though I have to admit that I enjoyed it more than the last book by leaps and bounds, it still was a pretty average read for me.
As the summary suggests, Thrown Down is a second chance romance for River and Vaughn. River has always been the good girl in town. She was meant to do something great with her life but now she's a struggling single mom trying to make ends meet. I liked River but I did not like why she kept the pregnancy a secret from Vaughn. That was a big deal and you can't just hide stuff like that when he was the father.
Vaughn on the other hand has always been the resident bad boy who messes up everything he touches. That is the reason he leaves River behind in the first place. But now he's back for his child and River. I liked Vaughn I guess there was nothing exceptional about him but he loved River with his entire heart and was willing to do anything to get her back. But I did think and he could be a bit too overbearing at times.
Vaughn and River shared great chemistry there is no doubt about that. They had a connection even though both came from vastly different backgrounds. BUT this time the steamy scenes just did not do it for me. They felt way too porn like and not sexy love like. Like one minute River and Vaughn were all angsty and hurt about emotions and love and the next they're going at it with dirty talk. It didn't sit well with me.
Other than that River's daughter was cute. I did miss seeing the couple from the first book. Even though I found Thrown Down to be just an okay read I don't think I'm going to give up on the series just yet. We are introduced to some new characters and I'm hoping they get a book. Thrown Down by Tessa Bailey was an okay read.
*Note: A copy of this book was provided by the author/publisher via Netgalley in exchange for an honest review. We thank them.