Summary-
Disgraced cop Henrik Vance is having a shit year. Banished to a derelict undercover squad, he's been tasked with hunting down the daughter of Chicago's most dangerous criminal. His obsession with saving the beautiful girl destroyed his career. And this time, it might cost his life.
Ailish O'Kelly doesn't need a hero. She'll save
herself
from her father's violent criminal dynasty, thank you very much. Unfortunately, the sexy as sin cop who crashes her hideout isn't hearing reason—especially not after the kiss that becomes
much
more.
His boss wants her as an informant. Ailish wants Henrik to keep whispering filthy things against her skin. But she knows too well the evil they're up against, and when it comes down to protecting the man who owns her body and soul, she only has one choice…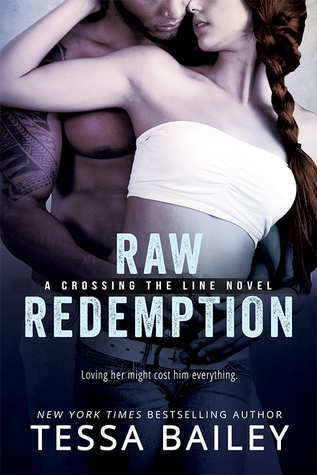 Release date: June 13th, 2016
Published by: Entangled: Select Suspense
Page numbers: 304
Review-
I have been with this series right from the beginning, I mean even before this part of the spin off series started. I actually became a Tessa Bailey fan because of Protecting What's His from the Line of Duty series. I've come to adore all her stubborn characters, so I am a little sad to say that Raw Redemption is the last book in the Crossing the Line series. And I did enjoy Raw Redemption. It was a good read, just not my favourite.
So this is the story of Henrik. He is the disgraced cop who gave it all up for a girl. A girl, he didn't even know. He just went with his instincts there. It doesn't help that the girl is the daughter of a mob boss. I liked Henrik. He was extremely protective. He was disciplined and always tried to do the right thing except where Ailish was concerned. Overall, there was nothing to dislike about Henrik.
Ailsih is the daughter of a mob boss but somehow she's managed to stay innocent. I liked Ailish. She had always been caged in her home, seeing horrible things being done to others because of her. When she's had a taste of freedom she is not willing to let go of it. She'll fight to stay free and I liked her determination. I also liked how she didn't pretend to be coy with Henrik.
The chemistry between Henrik and Ailish was mind blowing. Henrik is head over heels for the girl, completely smitten since the first page, willing to do anything, harm anyone for her. Ailish is in her own way attracted to him but she obviously finds it difficult to trust a cop. Tessa Bailey weaves an exciting romance with high stakes, one final time for this gang.
What really pulls together everything in Raw Redemption is the glimpse of the previous couples. I loved seeing Austin and Polly from the last book. Connor and Erin were just as crazy and Bowen was just as possessive about Seraphina. These bunch of misfits really came together and formed a deep bond of friendship and love. I also loved seeing Derek, the one person who has been there from the beginning trying to keep everything together. He's an all time favourite for me. So while I am sad to see this series end with Raw Redemption I am looking forward to reading loads more from Tessa Bailey.
*Note: A copy of this book was provided by the publisher via Netgalley in exchange for an honest review. We thank them.