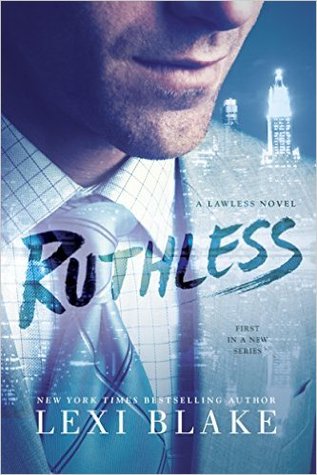 The first in a sexy contemporary romance series featuring the Lawless siblings—from New York Times bestselling author Lexi Blake.
The Lawless siblings are bound by vengeance. Riley, Drew, Brandon, and Mia believe the CEO of StratCast orchestrated their parents' murder twenty years ago to steal their father's software program. And there's only one way Riley can find some solid evidence...
Heir to the StratCast legacy, Ellie Stratton hires a new attorney to handle a delicate business matter—and she's shocked by her attraction to him. Over the course of a few weeks, Riley becomes her lover, her friend, her everything. But when her life is threatened, Ellie discovers that Riley is more obsessed with settling an old score than in the love she thought they were building. And Riley must choose between a revenge he's prepared for all his life and the woman he's sure he can't live without...
Pre-order Now
Review-
After reading the Perfect Gentlemen series by Shayla Black and Lexi Blake I could not resist myself and so I requested Ruthless by Lexi Blake. I know the Shayla Black and Lexi Blake duo is awesome but Lexi Blake is a fantastic author on her own too. Ruthless starts off a new series called Lawless. These books basically circle the Lawless siblings in their quest for revenge or justice as they like to think of it for their parents.
Ruthless is the story of Riley and Ellie. Riley is the second oldest brother amongst the Lawless siblings and he is an attorney. Riley has always worshipped the ground his older brother has walked on and he remembers what happened to their parents. He is willing to do anything to solve the mystery surrounding their parents' deaths even if it means getting close to Ellie. Riley was a smart man but he was blinded by vengance. That soon changed when he met Ellie and I liked seeing his growth through the book.
Ellie is the daughter of one of the partners of the company which was founded by Riley's parents. Ellie is clueless where Riley is concerned but she needs an attorney fast and Riley comes with a good recommendation. She has no idea that she is being played. Ellie was a really sweet heroine. She was idealistic in her ways and she truly wanted the best for the company and its employees.
Lexi Blake knows how to write a romance. Riley and Ellie had amazing chemistry. Together they were sweet and sexy and intimate all wrapped into a delicious package. Obviously the dynamics between them change when Ellie finds out Riley's true intentions. Another thing I loved about this book? Lexi Blake makes the hero grovel and beg and he does it extremely well. It all made for a very satisfying ending.
I also loved getting to know all the Lawless siblings. Mia and her husband were adorable together. Drew is the oldest and the most jaded and cynical of the bunch. He is hell bent on getting his revenge. Brandon, the youngest brother, on the other hand is sweet and intelligent in many ways. But he is definitely damaged. I can't wait to read his story which is next. With corporate espionage, complex relationships and lots of twists and turns Ruthless made for a very enjoyable read.

*Note: A copy of this book was provided by the author/publisher via Netgalley in exchange for an honest review. We thank them.
EARLY REVIEWS FOR RUTHLESS
"Smart, savvy, clever, and always entertaining. That's true of Riley Lawless, the hero in Ruthless, and likewise for his creator, Lexi Blake. Both are way ahead of the pack." ~ New York Times bestselling author Steve Berry "I love Lexi Blake. Read Ruthless and see why." ~ New York Times bestselling author Lee Child With Ruthless, Lexi Blake has set up shop on the intersection of Suspenseful and Sexy, and I never want to leave. ~ Laurelin Paige, New York Times bestselling author Ruthless is full of suspense, hot sex, and swoon worthy characters -- a must read!" ~ New York Times bestselling author Jennifer Probst
NY Times and USA Today bestselling author Lexi Blake lives in North Texas with her husband, three kids, and the laziest rescue dog int eh world. She began writing at a young age, concentrating on plays and journalism. It wasn't until she started writing romance and urban fantasy that she found the stories of her heart. She likes to find humor in the strangest places and believes in happy endings no matter how odd the couple, threesome, or foursome may seem.