Goodreads Summary:
If A Maddox boy falls in love, he loves forever. But what if he didn't love you, first?
No-nonsense Liis Lindy is an agent of the FBI. Deciding she is married only to her job, she breaks off her engagement and transfers from Chicago to the field office in San Diego. She loves her desk. She is committed to her laptop. She dreams of promotions and shaking hands with the director after cracking an impossible case.
Special Agent in Charge Thomas Maddox is arrogant, unforgiving, and ruthless. He is tasked with putting away some of the world's toughest criminals, and he is one of the best the Bureau has to offer. Though, as many lives as he's saved, there is one that is beyond his reach. Younger brother Travis is faced with prison time for his involvement in a basement fire that killed dozens of college students, and the media want a conviction. Travis's only savior is his unusual tie to the mob. In a deal that will spare his brother, Thomas has agreed to recruit Travis into the FBI.
Liis is stubborn, defiant, and yet somehow softens Thomas's rough edges, making her the perfect agent to accompany him to the ceremony. Posing as a couple, they must travel to Travis & Abby's beach vow renewal and give him the news, but when the pretending ends, she finds herself wondering if they were pretending at all.
In the second installment of the Maddox Brothers books, experience firsthand the mysterious world of the elusive Thomas Maddox, and how good love can be when you're not the first, but the last.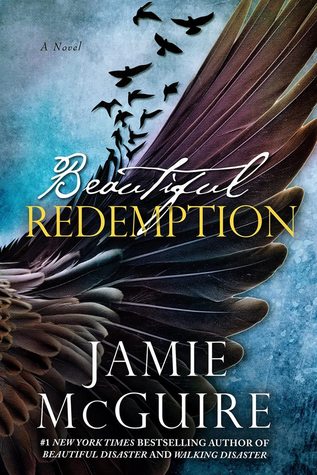 REVIEW:
I went into Beautiful Redemption without any expectations whatsoever as I was highly disappointed by the first book in the Maddox Brothers series, Beautiful Oblivion. While it is no secret that I love love love the Beautiful series (and by that I mean Travis Maddox), I was hoping that Beautiful Redemption wouldn't be another Abby and Travis retelling from another perspective. I'm not saying that it wasn't. But this story had an actual fixed plot and really strong characters that made it a very good read or maybe it's just that I hadn't read a thorough Jamie McGuire romance or any romance in a long time, so I found this to be cute.
There are only two negatives that I could come up with when it comes to Beautiful Redemption and unfortunately, those two points end up playing a major role. I did not like the way the story started and neither did I like the way it ended. Major turnoff, I know. And it has me confused about my final rating of the book. But trust me, what happened in between the start and the end was just too good. The story of two FBI agents, I didn't really care or even understand the mystery/ thriller aspect as I'm not the biggest fan of the genre. The characters, however, were well developed and most importantly, they were adults. For me, Beautiful Redemption is more of an adult romance.
Speaking of the characters, Thomas Maddox was just too cute to be true. We didn't ever really get to know him before or even meet him for that matter. So he was always a mystery, and from the little that we saw of him in Beautiful Oblivion, I wasn't the biggest fan. But in his own book, he was awesome. I love how protective he was of his family. His love interest Liis was perfect for him. A career-oriented woman, I enjoyed how real she was as a person and her kick-ass attitude in a contemporary novel was a fresh and much needed change. But it was irritating when she tried denying her feelings all the damn time. Together, Liis and Thomas made for a cute couple who acted immature sometimes and took way too long to make things work.
As always, it was great to meet the Maddox family who I didn't even realise I missed so much. Obviously we have Abby and Travis who we all know always sell. But thankfully Beautiful Redemption didn't revolve around them. Their part in the story was an amazing surprise that I enjoyed reading. But this book for me, is Liis and Thomas all the way. Beautiful Redemption was a fantastic read with fabulous characters and even though it had negatives, it was an enjoyable and funny read overall.
RATING: