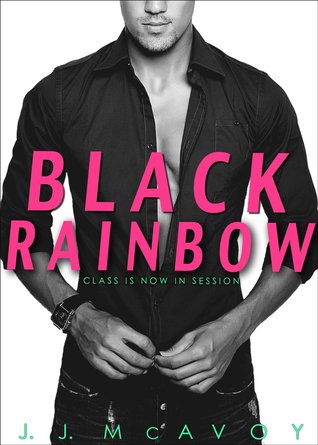 Summary-
After an erotic one-week fling with a musician she meets in a bar,
Thea Cunning
never expects to see
Levi Black
again. Then Monday morning comes around, and she discovers that her former lover is not only her professor, but he's also one of the top criminal lawyers in the state of Massachusetts.
With everyone in class vying to be one of the twelve disciples—a group of twelve students that Professor Black takes under his wing—tensions run high. Thea considers dropping his class, given their passionate week together and their undeniable chemistry. After all, there are other (less infuriatingly sexy) law professors on campus.
But to accomplish her goal and get her father out of prison, Thea knows she needs to learn under the best of the best—and that's Levi Black.
But can she learn under the best, without being under the best?
Review-
Black Rainbow was such a random read I stumbled across while surfing goodreads. I liked the way the summary sounded and was curious to see how the story would go. I am SO glad I read Black Rainbow because I ended up loving it. I loved Thea and Levi and the romance was super satisying!
Let's start with Thea. Thea has a one week fling with Levi and after that she discovers that he is her professor. Things are so very complicated between them but that is the gist of it. I really liked Thea as a heroine. She was strong and capable and hard working. She wanted to get through law school so she could get out her wrongly imprisoned father.
Then we have Levi. Levi was possibly the most perfect man I have ever read about. He was a hard ass teacher and a lawyer with an untarnished reputation. Levi was definitely attracted to Thea but it was amazing how he got under her skin and discovered all her secrets. Levi was very swoon worthy and god, the man made me melt.
Levi and Thea shared amazing chemistry. I loved the witty banter between them. It was sexy yet sweet and the fourteen year old age difference between them disappeared into thin air. They were so in sync with each other. J.J.McAvoy definitely knows how to write steamy scenes. Levi and Thea were combustible together.
I also loved all the law related stuff and the cases which happened in the book. I cannot vouch for how authentic it was but I enjoyed the part of the plot none the less. I can't believe I haven't read many inter racial romances yet but Black Rainbow has definitely changed my mind about it. If you are looking for a great romance pick this one up!