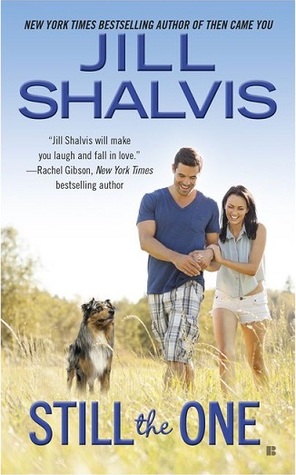 Summary-
Darcy Stone is game for anything — except sexy Navy veteran and physical therapist A.J. Colten, the guy who'd rejected her when she'd needed him most. Now the shoe is on the other foot and he needs her to play nice and help him secure grants for his patients. Unfortunately, Darcy can't refuse. She needs the money to fund her passion project: rescuing S&R dogs and placing them with emotionally wounded soldiers.
A.J. admits it — Darcy is irresistible. But he's already been battle-scarred by a strong-willed, vivacious, adventurous woman like Darcy, and he's not making the same mistake twice—until he and Darcy are forced to fake a relationship. Growing closer than they'd ever imagined possible, Darcy and AJ have to ask themselves: how much between them is pretend? What's the real thing? And where does it go from here?
Review-
I LOVE Jill Shalvis and her books to pieces so obviously, I got to her latest, Still the One when it came out. Still the One is the sixth book in the Animal Magnetism series. I really enjoy the Animal Magnetism series, maybe not as much as I did the Lucky Harbor one but still. Darcy and AJ were a fun couple to read about and I enjoyed Still The One.
Lets start with Darcy. Things changed in Darcy's life when she met with an accident eleven months back. Now she is recovered because of her physical therapist AJ and though she can feel the sparks between them she doesn't want another rejection. I really liked Darcy. She was always prickly towards AJ but that is only because she wanted to protect herself. I loved how we got to see Darcy's vulnerabilities and see her for who she really was.
Then we have AJ. AJ is a physical therapist who works hard for his patients. AJ has a major attraction towards Darcy but he is not willing to do anything with his best friend's little sister. I really liked AJ. He was stubborn and protective and always there for Darcy even when she pushed him away. But I would have really liked more. I can't exactly put my finger on what was missing.
AJ and Darcy have sparks flying all over the place. They have an undeniable chemistry and the tension between them is for everyone to see. Darcy and AJ had constant arguments and back and forth conversations going on. But there was always an undercurrent of attraction between them. They understand each other so well and always want the best for each other.
Darcy and AJ were both stubborn but that is what made them so perfect for each other. I loved seeing Darcy's siblings, Wyatt with his better half and Zoe whose book is next. Jill Shalvis always writes amazingly sweet and sensuous books and Still the One was no exception. I really liked Still The One.